Cerdo at a Glance
Owned by: Jennifer Pulham, Nathan Pratap and Tu Le
Location: 150-15 Perron Street, St. Albert
Their specialty: Fresh, authentic Mexican food mixed together with a fun, casual dining experience
Hours: Open Tuesday to Thursday (11 a.m. to 8 p.m.) and Friday to Saturday (11 a.m. to 10 p.m.); walk-ins only on Fridays and Saturdays
Signature dish: Carnitas (a pork taco that includes cilantro, radish and house-made salsa verde) and a killer drink menu of premium tequilas and margaritas
Interesting facts: The restaurant's logo is a cerdo, the Spanish word for pig, which is designed in a Dia de los Muertos (Day of the Dead) style. The menu reflects an affordable price range, with entrees averaging just under the $15 mark.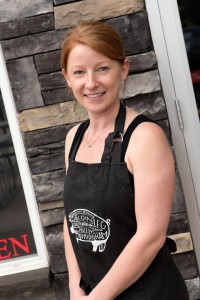 There's a new restaurant in St. Albert that's paired mouth-watering, authentic Mexican food and luscious margaritas with a fun and casual dining experience. In fact, sitting there, you may find yourself wondering if, perhaps, you are actually enjoying your meal at a cantina somewhere in Mexico. Welcome to Cerdo Tacos + Tequila.
Fresh, Authentic, Delicious
With the aroma of tasty Mexican food swirling around the room, Tu Le sits at a table in his restaurant, Cerdo, along with co-owners Jennifer Pulham and Nathan Pratap. "The best thing about our restaurant," says Tu proudly, "is that you know what you're going to get once you come here. It's fun, and you know you're going to get one hell of a taco." Bringing their talents and passion for food together, and by focusing solely on authentic Mexican food, the trio believes they have created a dining option that was largely missing from St. Albert in the past.
Committed to serving up food in a holistic way and honouring traditional Mexican fare, Tu describes the cuisine as head-to-tail cooking. This means, at times, if a certain ingredient runs out, that particular dish may not be available any more on that day. However, according to the owners, that is something that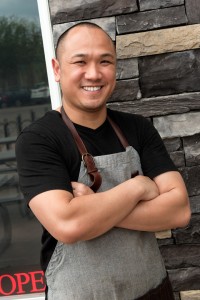 Cerdo customers are actually quite happy about, appreciating the fact that, sometimes, serving (and eating) the freshest food means that when it's gone, it's gone.
Commitment to the Community
In their efforts to use only the freshest ingredients, the trio strives to make connections with local suppliers, such as D'Arcy's Meat Market and the Salt Room. This pairs well with their commitment to the community. As Jennifer says, "We love St. Albert and the Perron district especially," describing the area's vibe, with its unique businesses and cool restaurants, as an exciting place to be.
Rooftop Dining
Cerdo has painstakingly created a menu that reflects everything that is delicious about authentic Mexican food—from popular tacos (there are eight varieties to choose from) to nachos, huevo bowls and their house-made salsa. Jennifer says the carnitas are a great place to start if you're new to the restaurant and are a customer favourite for sure.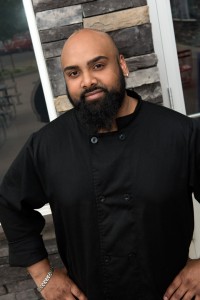 Along with the amazing food and drinks (that, let's be honest, seem to go down a little too quickly), Cerdo also offers something that's been lacking in St. Albert—a rooftop dining experience. Their patio looks out onto Perron Street and the city's downtown core, a beautiful dining experience for food lovers in the summer and one that keeps their customers coming back. "We have a great group of core customers who have been supporting us all along," says Jennifer, "There's one couple who, any time they have out-of-town guests, always bring them here. It's so nice to have that kind of support from people in St. Albert." Like tacos and tequila, that's a magic combination. t8n
Did You Know? The Bartender's Marg is one of Cerdo's most popular drinks—this tasty margarita is made from freshly squeezed lime juice, agave, Grand Marnier and 1800 Silver Tequila. Other must-try drinks perfect for enjoying on the rooftop patio this summer include bulldogs, mojitos and, of course, a frosty cerveza or two.