There's only one secret to building a winter wonderland, and it costs nothing—a smile. In fact, just gathering our supplies put us in the holiday spirit. Finding those items was as easy as shopping the house and backyard. We used ornaments and wooden toys, bell jars and vases, pine cones and cedar boughs. Mostly, we used imagination. The results? Goosebumps! But don't take our word for it. Happy crafting.
How to Make a Snow Globe
Gather your supplies: a jar with a tight lid, an ornament and some sparkles.
Glue the ornament to the inside of the lid with waterproof glue.
Add sparkles to the jar, and fill with water, leaving an inch of room at the top.
Screw on the lid tightly, shake and watch the snow fall.
Glass canisters from the pantry become beautiful centerpieces with the addition of a few pine cones and some cedar trimmings. Flameless candles make them worry-free.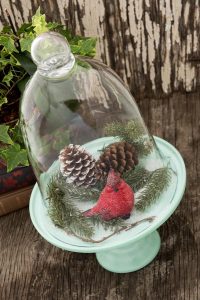 Turn an old vase into a winter terrarium with a few pine cones, a pruned branch and a woodland Christmas ornament.
Peel-and-stick snowflakes and lettering were all that were needed to transform this pretty cloche into a snowy wonderland.
Not sure what to do with those holiday-themed candles and inherited dishes? Make centerpieces!
Think outside the ornament box. This cute owl is a long-forgotten salt shaker.