Neither Janelle Grice or her Grade Two students at Sir Alexander Mackenzie Elementary School knew quite what they were getting themselves into 14 years ago when the class, after learning about Terry Fox and his Marathon of Hope, asked "Why can't we finish it?"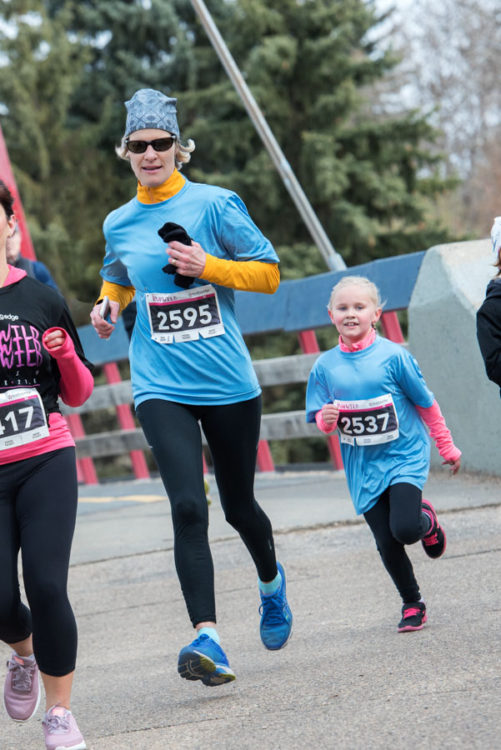 Grice, who had been a runner her entire life, told the children that they could, but it was going to take a lot of work because 3,000 km of the marathon remained. So, for the rest of the school year, the class would run nearly every day, either outside or in the gymnasium, combining their efforts so that when the class of 20 students each ran a kilometre, they would have a total of 20 clicks that day. During the last week of school, the students competed in the annual 5K RunWild race in St. Albert, reaching their goal of 3,000 km, completing Fox's Marathon of Hope. They also inspired Grice to start a running club at SAM called Grice's Gazelles which would be more focused on simply getting kids active.
"It just kind of became a tradition in my class as something we do," says Grice. "It became a thing where kids would think, 'I want to be in Mrs. Grice's class because they go running,' or 'I don't want to be in Mrs. Grice's class because they go running,'" she says.
In 2017, Grice took a job at Lois E. Hole Elementary School in Erin Ridge North, where she immediately formed a new group of runners called Hole Hornets Running Club with a fellow teacher. "When I moved here two years ago, I actually contemplated thinking 'Maybe I won't run and that will be something I bury with my old school,'" explains Grice. At the new school, the club which begins running in September, is open to Grades Two through Six, and finishes in late October with the Halloween Howl Fun Run and Walk at the University of Alberta. From November onward, only students in Grice's Grade Two class continue running, preparing for the RunWild race in early May.
At SAM, Grice would expect one hundred percent participation from her class (unless excused by a parent), but at Lois E. Hole, she says it's more of an option–partly because there seems to be less and less interest from students as time goes on. "I'm finding a real trend in education right now with kids who just don't want to do stuff," explains Grice.
Therefore, Grice makes sure to start the season off slow, having the kids alternate between running and walking for a kilometre until they can run the whole distance, making sure to provide positive reinforcement along the way.
"You really have to get them to believe in themselves," says Grice. "A lot of kids don't know they are good at running until they do it."
From the very beginning at SAM, Grice says she noticed academic, athletic, and self-confidence benefits from running with her students. Whether it was being able to get her class to complete writing exercises after lunch or noticing an increase in journal games and climbing club participants, she knew that her little running experiment was special. "I think it really just boosted their confidence because not everybody is a hockey or ringette player," says Grice. "It's a sport they can do individually, and I think it did motivate them to want to be part of other things in the school."

However, a lot has changed in 14 years, as teachers at Lois E. Hole have to compete with cellphones, streaming services and video games for students' attention. It's largely why the school focuses on nature, making it mandatory that students are outside regularly. Grice says the outdoor requirement makes finding time for running with her class a lot easier, although she had to deal with more students reticent about running. "I always tell kids 'You might not like running, but I know you're going to love the feeling you get when you cross the finish line,'" says Grice. "I just think it gives them such a sense of accomplishment."
Since the inception of Hole Hornets, Grice says the feedback from parents has been nothing but fantastic and that parents have even occasionally come out and run with the class. Grice believes that some parents are actually happy that their children are getting enough exercise. "I have parents bawling their eyes out at the finish line because they can't believe that their child did that," says Grice.
She believes her students are responding positively to the club, with some even showing signs of real talent for the sport. One of Grice's Grade two students–a seven-year-old girl–completed the RunWild race in 25 minutes, coming in fourth place out of 80 girls in the under-19 division.
Grice's only hope moving forward is to get more students involved in the club. "I just hope that the kids feel like it's something they can continue doing," says Grice. "All you need is a pair of shoes and a piece of road." t8n