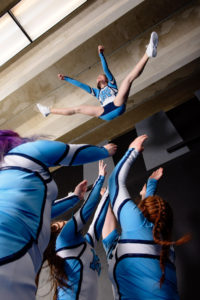 Cheerleaders are often thought of as morale boosters for athletes and sports teams, but not necessarily as athletes in their own right. To those doubters we say, you've probably never seen what the Paul Kane cheer teams can do. For the last six years, the junior girls and senior co-ed cheer teams have not only been pushing the school's football team to achieve greatness, they've been achieving greatness of their own across the province and on the international stage. But their success doesn't come easily. The coaches and the students work hard to perfect their routines and inspire a sense of community on home turf and abroad. In fact, if there is one thing these teams know better than any other athletes, it's how to spread cheer—holiday or otherwise. Take a look.
Competition cheerleading got its start in the 1950s in the United States but didn't reach Canada until the 1970s. Even then, it wasn't accepted as a sport in all parts of the country. And now, only Quebec, Nova Scotia and Alberta officially recognize it, though more and more provinces are trying to change that. In Alberta, cheerleaders have enjoyed official recognition since 1984, and that has allowed the sport to prosper here.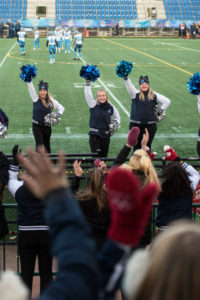 With so many teams spread across the province, the cheerleaders at Paul Kane need to be in excellent shape. Head coach Jennifer Guiney leads her students in four to five hours of training per week. They start off with stretches, followed by about 45-minutes of acrobatic stunting, the foundation of a good cheer routine. Following this, the students train in gymnastics, tumbling, jumps, dance routines and of course, cheers. Students need to build their strength and stamina in equal measures in order to make it through a routine in one go.
It may seem like a lot of training, but it all counts in the end. Both the junior and senior teams participate in competitions across the province. Last year, both junior and senior cheerleaders took their first international trip, competing in California against American teams. "The competitions are as exciting as they are nerve-wracking," Jennifer says. "The team has two and a half minutes to lay it all out, flawlessly. There are no re-dos in cheerleading." But even in these tense competitions, morale is always high. "The positivity and energy from the other teams is overwhelming," Jennifer says. "Everyone genuinely wants everyone else to do well. It doesn't matter what colour your uniform is. We're all cheerleaders together."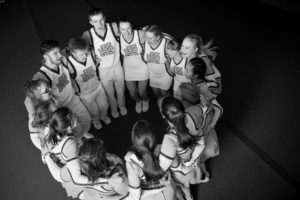 Jennifer trains her teams along with five other coaches who come from a variety of cheerleading backgrounds. Along with this excellent coaching staff, the school itself has been very supportive of the cheer teams, providing practice space where they can with Paul Kane's limited gym space and giving the teams whatever they need to succeed. "We also get a lot of support from the Alberta Cheerleading Association," Jennifer says. "As well as the Alberta Schools Athletic Association, that really funds and runs high school cheerleading here in Alberta."
Since Jennifer took the position as head cheerleading coach six years ago, the program has expanded rapidly. This year, the school added a dance team into the mix, which performs at half-time shows and will be competing in competitions later this year. But with all their success, the teams haven't forgotten their roots. When they're off the field, they continue to spread cheer around the school, ensuring that the staff and students of Paul Kane will never be lacking in community spirit.