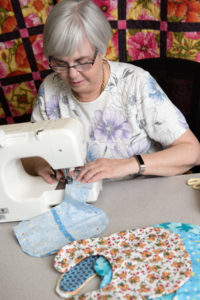 For close to 40 years, the St. Albert Quilters' Guild has been keeping the city warm through the art of quilting. Forming in 1980, the group—under the St. Albert Arts and Crafts Guild banner—met in members' homes until moving into the new St. Albert Place in 1984. A year later, the Arts and Crafts Guild split off into separate groups, and the St. Albert Quilters' Guild was born.
"I am very proud of the giving spirit in our guild," says Carol Mosier, who became the guild's president in 2018. Today, their work can be found in homes and buildings throughout St. Albert, and can be seen at events such as Art Walk, Culture Days, Mission Hill Day, and Harvest Days.
Guild members preserve an important folk art while promoting community and comfort through their cozy creations. The guild donates quilts to various local charities, including Ronald McDonald House, Quilts of Valour, Little Warriors, Basically Babies, Habitat for Humanity and Sorrentino's Compassion House. They've even made fidget quilts for Alzheimer's patients at Sturgeon Community Hospital, and here a member sews bibs for a baby basket charity.
Every part of a quilt expresses something special for the quilter, from the fabrics to the piecing to the needlework and craftsmanship that bring it all together. Through the careful choice and arrangement of colours, designs, and techniques such as appliqué, embroidery, or trapunto (where an extra layer of batting is applied for a puffy effect), the quilter adds dimension.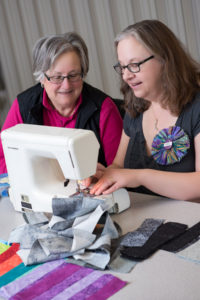 We all have an inner innovator that's keen to express itself. For Mosier, who's enjoyed knitting and sewing since she was a child, that inner artist came out after her sons grew up. "The time spent taking them to hockey, soccer, and baseball was replaced with my own activities," she says.
"I love the tactile experience of working with fabric," Mosier notes. "The visual and intellectual stimulation of using colour and shapes to create a quilt that's not only beautiful to look at but provides comfort and warmth is very rewarding."
Skills and techniques that quilters use have been eagerly passed along to new generations, as some age-old customs can attest. One such belief held that a girl should have a baker's dozen of quilt tops made by the time she became engaged. Times have certainly changed, but quilting remains valuable as a folk art and as a practical way to keep warm.
Quilting has a long tradition in North America. For early settlers, it was an art of necessity, a way to keep some heat in by creating comfortable bedspreads or hangings to cover doors and windows. Quilts were—and still are—a great way to use scrap pieces of fabric, and are easy to repair or repurpose when worn.
"I was looking for the camaraderie of others who share my enjoyment of the art of quilting," says Mosier, speaking of why she joined the guild in 2015.
Quilting with others is all about collaboration and sharing and bringing people together over fabrics, patterns, and colours. It's a great opportunity to catch up with friends, and swap stories and ideas while sharing expertise.
A quilt is like a community—distinct and individual pieces are brought together and united to create something bigger and more beautiful. Like the layers and pieces of a quilt, the members of a quilting group come together to complement and support one another as they create their works of beauty and charm.
A quilt really is the sum of its parts. Besides the physical fabric and thread, quilting calls for patience, care, and thoughtfulness—attributes that go into every quilt, whether for personal use, charity, or to commemorate a special event. These handmade and customizable gifts help stitch a personal bond between quilters and the people and places enriched by their creations. t8n