Looking for a quirky decor project that's fast, colourful and fun? Pompoms are a delightful way to brighten a room—and they're easy enough that you can put your kids to the task, too.
Pretty pompoms are a poufy and whimsical way to add a personal touch to blankets, baskets, rugs, and wall hangings. They're also a charming addition to wrapped gifts and gift bags, kids' clothing such as the edges of scarves, tops of toques and hoodies, and backpacks. So, on the next rainy day, get the kids to help you make a big bowlful of pompoms for embellishing your home. Some might call it child labour, but we call it a great opportunity to spend quality time with your kids, teaching them some basic craft skills,
and letting their imaginations run wild.
How-To: DIY Pompoms
Creating your own pompoms couldn't be easier. The basic technique is to wrap yarn around a pompom maker (more on that below), tie it off at the centre, and cut through the loops at both ends, allowing your pompom to pouf out. While there are many affordable pompom makers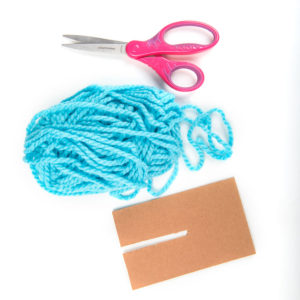 available for purchase,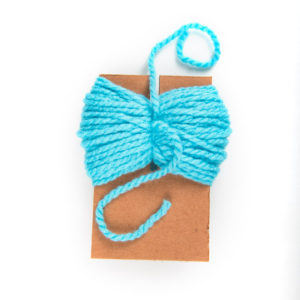 we have simply opted to use a cardboard rectangle with a slit cut down the middle (as shown).
1 Start by cutting a rectangle from a piece of cardboard—the larger the rectangle, the larger your finished pompom (we made mini pompoms for the gift shown using the tines of a fork). Then make a wide slit running half-to-three-quarters of the way down the rectangle.
2 Begin wrapping the yarn around your pompom maker, running overtop of the slit as shown. The more rounds you go, the denser your pompom will be.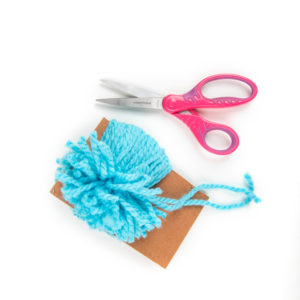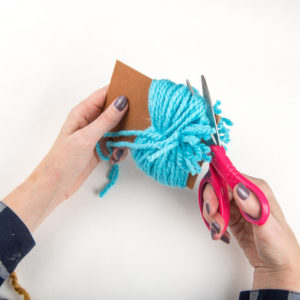 3 Lead a length of yarn through the slit, and tie off the centre of the wrapped yarn as tightly as you can.
4 Snip through the loops of yarn at each end of your pompom maker with a pair of sharp scissors. Remove the cardboard maker and fluff the pompom to form a ball.
5 Give your pompom a haircut and trim any uneven ends so it looks neat and tidy.
Tip: To keep your pompoms from coming loose, use waxed or embroidered thread to tie off the centre, which will keep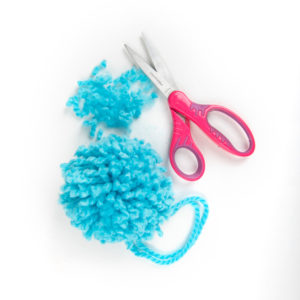 them tightly fastened.
Inspiring Ideas
Sew baubles to blankets. Adorn the edges of a blanket as an accessory that's surprisingly chic.
Design a rug. Tie pompoms to a rug pad for a colourful carpet and fluffy feel underfoot.
Fluff up some flowers. Attach pompoms to faux floral stems and pop in a vase for a pretty bouquet that will have guests doing double-takes.
Embellish a basket. Fasten pompoms to baskets for an extra playful touch. Perfect for adding pops of colour to Easter baskets.
Pin the pompom on wall hangings. Attach to neutral-coloured wall hangings to transform the look. This is a fun and easy way to switch out your colour scheme each season.
Add pizazz to gifts. Tie to a wrapped gift, or dangle from the handles of a gift bag for a present that won't get lost in
the pile. t8n
*Special thanks to Glass Earth Inc. for the tropical foliage featured with our pompom blanket.