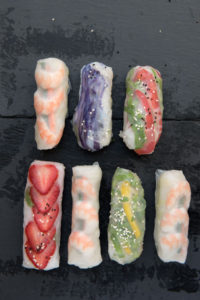 Homemade salad rolls will never look as perfect as the ones from your favourite restaurant, but—man!—are they ever delicious.
1 package round, rice paper sheets (the larger, the easier to roll)
1 package vermicelli rice noodles
Fresh strawberries, sliced
Precooked large shrimp, cut in half lengthwise
Fresh vegetables, julienned (we used carrots, sweet peppers, cabbage and lettuce)
Fresh mint leaves
Fresh cilantro leaves
Sesame seeds, to garnish
For the dipping sauce
1/3 cup smooth peanut butter
1/4 cup hoisin sauce
1 tbsp low-sodium soy sauce
1 clove garlic, minced
1 tbsp sesame oil
1 tbsp freshly squeezed lime juice
1 tsp freshly grated ginger
1 tsp Sriracha sauce
1 tsp sugar
1 tsp water
Place the vermicelli noodles in a large mixing bowl, and cover them with boiling water. Let them sit until tender, and then drain them into a colander. Rinse the noodles with cold water, and let them drain.
Pour an inch of boiling water into a pie-plate-sized bowl, and allow it to cool for 5 minutes. Next, take two rice papers (one stacked atop the other) and submerge them in the hot water until just softened and pliable. Place the stack on a flat work surface in front of you (being careful not to tear them). Now comes the filling and rolling.
Place a cigar-shaped pile of noodles in the centre of the rice paper, leaving a 2-inch empty border on the left and right. Alongside the noodles, create a second cigar-shaped stack of shrimp, vegetables, strawberries and herbs of your liking (each roll can be different!). Next, fold the left and right edges of the rice paper in. Then fold the side closest to the noodles over the noodles and slightly under them. Continue rolling forward as tightly as possible without tearing the paper. Place the finished roll colourful-side up. Repeat with remaining ingredients.
Place all the dipping sauce ingredients in a small bowl and whisk them until combined. Serve alongside the salad rolls.