The Covid-19 has presented us with a lot of new challenges as well as opportunities. Staffing has been my biggest challenge. One key full time employee left due to anxiety issues. Five other employees have self-isolated for two weeks since March 15th. Another key part-timer would leave us since his child no longer had daycare provisions. Our sales volume ramped up significantly mid-March for both the online part of our business as well as the bricks and mortar. By mid-March most of our Edmonton area competitors had closed hence the sales spike. I am and have been working 7 days a week 12 hours a day to keep the ship steered since February.
Getting stock has been the next biggest challenge. Board games especially since so many of them originate in China and factories were closing down. In Mid-late February we brought in about ten pallets of keyboard game titles from various suppliers. This would pay off big time by late March as most of those suppliers are in Ontario and Quebec and were shut down by the provincial government. Only a few suppliers would reopen weeks later. Even then they are working with only a skeletal crew and are weeks behind.
Getting an adequate supply of puzzles was the third biggest challenge. The jump in sales was huge Mar 7 – 14th and even more so the following week with so many competitors closed. I have long-standing relations with a lot of puzzle suppliers after 30 years but even so, most of then suddenly needed payment upfront as I placed orders 10 times my usual volume. I suspect this need for advanced payment was due to the number of stores closing who were not paying off the suppliers. I had to move fast to get a LOT of puzzles from a lot of suppliers and had to arrange additional storage for the many pallets that would begin arriving in April. On Saturday, April 11th we had only 34 puzzles left in the store. Every 500 and 1000 pc puzzle was gone. Folks were pulling up in the drive-through to request the last copy of a puzzle and while I was keying in the order another employee was pulling it for an online order for shipping or curbside pick up. Only a few kids puzzles and 275 pc family puzzles were left until a restock came in 4 days later.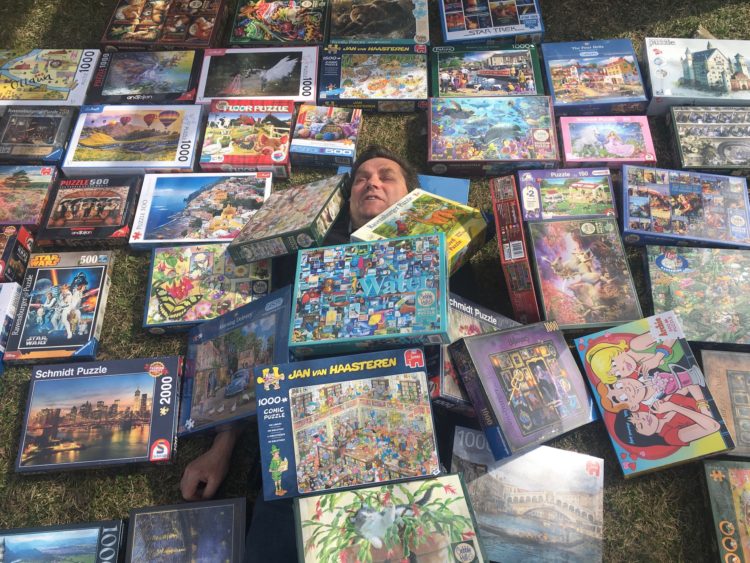 Of course, social isolation and sanitizing have presented a challenge. Like many other retailers, we mounted sanitizer stations throughout the store and warehouse, cleaned regularly and attacked the high traffic areas daily before opening. I brought in rubber gloves for those who wanted them and what few masks we could find. Stopped handling cash. Denoted 6-foot waiting spots on the retail floor and kept four tils open to avoid line ups.

There were many more challenges and adjustments to allow us to continue operating.
I have had a significant online business for 19 years with www.boardgames.ca In September 2018, after many months of vetting, I reinvented our website for the third time changing to a Canadian web hosting service that provided omnichannel services and far more up to date features and technology. This was as great cost even before the labour involved was factored in. But this change allowed us to provide in-store pick up as a service option. It was easy to transition to offering curbside pick up in early March. I hired 2 new employees to help keep up with the increased sales. This new software also halved the time needed to receive restock orders. It would be a huge factor in allowing us to handle pallets of stock that needed to be received quickly and with far fewer errors.
With curbside running well I began planning the drive-through service in case it was needed. When I read in the Edmonton Journal that Los Angeles was getting locked down, I pushed the project to the forefront. I had a wall framed into the east end of our SeaCan with a window. This facing is close to St. Albert Trail and would help a lot in showing customers I was open for business. My wife invented the lettering for DRIVE-THRU PICK UP from foam sheets and I used adhesive business card magnets to hold them to the metal SeaCan doors. Velcro adhesive held the other letters to the wooden framed wall now painted a bright green. I decided to have the customer call a designated phone number displayed at the drive-through as opposed to buying a dedicated drive-through system with a post, headset, and speaker. This phone number is forwarded to my cell which allows me to run (literally many days!) around the entire store pulling an order while talking to the customer without losing the call. Soon I would often be delivering the order at Pick Up via the conveyor belt at the sea can and taking a new call from the next customer at the drive 'order' here sign. Multi-tasking madness! I wanted to maintain social distancing the drive-through pick up window and spent hours looking for solutions. I finally decided to buy a new collapsible roller conveyor from Uline that cost over $1000.00 But hey, I got free set of barbeque utensils. Because of the slight slope of the parking lot, I knew I would need something to push the order out on the roller belt in the plastic bins I would be using. Being a tall former hockey player the solution was hanging on my garage wall, a six foot long hockey stick. Right curve.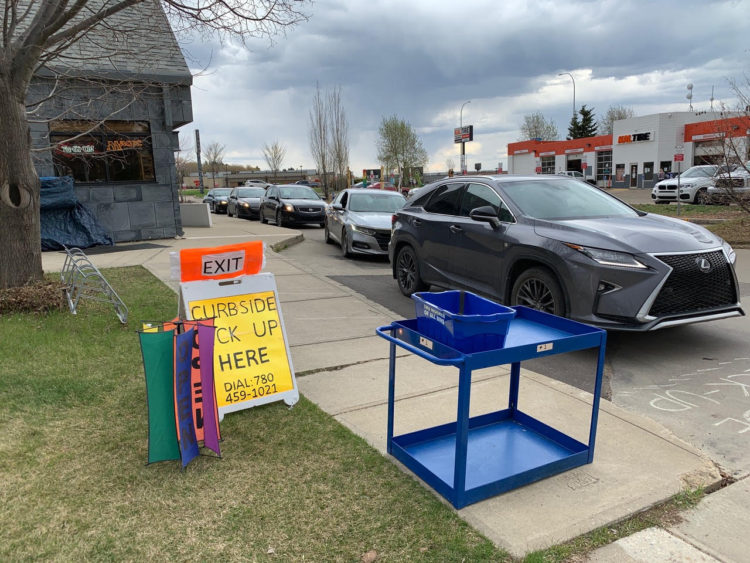 The 18 foot long metal sign can that had hung over the top of the entrance to my old location on Mckenney Ave for 15 years before I moved to the trail was still in my possession. So was the signage itself made of two long sheets of plastic some nine feet long each. I took some measure measurements and figured the existing metal posts I had pounded into the garden to support the various decorations I use year long would be just enough to support the sign and at close to the right height. I was lucky I did not have to worry about pounding in new posts into the frozen garden. It took four hours of work in the -18 below weather to get the sign mounted. I removed the old verbiage on the bottom of the sign under the store name ( Board games, roleplaying games, Comics, and more). With no time to send the sign in to a pro for the new subtiles, I decided to use the letter from our mobile sign to add:
Drive Through Open Mon – Sat 11 – 5.
To add a measure of further control plus fun and uniqueness to the drive through I dug out my ancient city traffic lights. I traded some guy a power supply for this back in '82 or '83. They were damaged goods from city traffic control that I would make good use of in my part-time business as a mobile disc jockey. I had installed a very nice new window in the games room about 18 months before. This window has a sliding opener at the top which would allow me to run out the extension cords for each light that is turned off or on by me as I move through the order stages with the drive through customers. The kids in the cars seem to really love it the most, though I get a lot of great comments from customers. Another bonus of the window is the height at just over six feet to the bottom. When I need to talk to a customer I can do so safely. For some smaller orders, I can just reach up to hand the customer the order through the window. Especially handy when the line up gets long and sometimes can be saved by passing the pickup order out that window.
Before any of the drive-through even began getting built one VERY key element of the plan had to be tested; Payment. Could customers pay with tap on the other side of that new window while I held up the tap compatible machine on the inside? I did a dozen trails runs with my three credit/debit cards on the two wireless machines I had only to discover…it worked!
I had the drive-through ready on March 25th. Just two days ahead of the lockdown announcement by Kenny, but held back opening due to our staff shortages and the very cold weather. I announced the planned opening date of April 2nd in our monthly newsletter which goes out to 16 000 subscribers at the beginning of each month. I shot a brief fun video of the pickup window using the conveyor belt and order of games and puzzles getting pushed out by me on the conveyor belt using a hockey stick to my daughter in her car. I fired that up to our youtube channel. It was linked to the newsletter as well as our website and Facebook page. City TV news saw that and came by the next day to shoot a feature. The reporter spent two hours taking footage entirely on his own. The editing teams did a fantastic job. The 1 minute and ten seconds or so of footage they used, in the end, was awesome. That did wonders for our exposure and the drive-through went nuts for the next week. It was amazing.
Trying to run both a curbside pickup service AND a drive-through at the same time was a logistical challenge. When you have 7 cars in the drive-through and 6 cars in the curbside pick up with cars circling through the adjacent parking lot at Kal tire for an opening to get in line you realize you have 'crossed the streams' and have to find solutions! Once the snow melted a simple solution presented itself: sidewalk chalk. I took sidewalk chalk to the building and parking lot to help direct customers to the denoted line up. I guess you could say the writing was on the wall… With this order, I got a free set of mittens! I then added more signage and one dozen very tall pylons from Uline to help keep the line ups in order.
The drive-through is about 4 times the labour of a normal walk-in customer transaction so I have a $35 min. order before tax. There is also a 6 item limit to keep the line moving. Weather permitting it is open 11 – 5 Mon – Sat.
https://www.boardgames.ca/
560 St Albert Trail, St. Albert, AB T8N 6A7
780 459 1055
This sponsored content was produced in partnership between Mission fun and Games and T8N Magazine