Three months ago, the team at Sobeys St. Albert would have never guessed that they would soon become frontline workers amid a global pandemic. But in March, when nationwide lockdowns were announced by the federal government in an effort to stem the spread of COVID-19, grocery workers across the country became more vital than ever.
"It was a lot for people to take and some had a hard time adjusting to it. But after three weeks, the whole team settled into the new normal,"

Sobeys St. Albert franchise owner Stuart Trenchard.
Meet the Family
Now in his 34th year in the grocery business, Trenchard and his family operate the only locally owned grocery store in St. Albert. When we say family, we aren't exaggerating. Amoung those employed at the store are his father, mother, sister, wife, three sons, two nieces, and one nephew.
At age 14, Trenchard began his career as a bag boy at Morinville IGA before completing his practicum at St. Albert Garden Market IGA (now Sobeys). He then worked his way up the corporate ladder, becoming the Director of Retail Projects for Sobeys. Eventually longing to get back to being closer to customers and the sales floor, he purchased the Morinville Sobeys in 2010 which he operated for four years. In 2014, he sold the Morinville store and purchased the St. Albert location.
"I'd always loved the store and there was a great franchise operator in there before. I thought I could emulate what he did and turn the store into a great success."

Stuart Trenchard
Adapting to and Preventing the Spread of COVID-19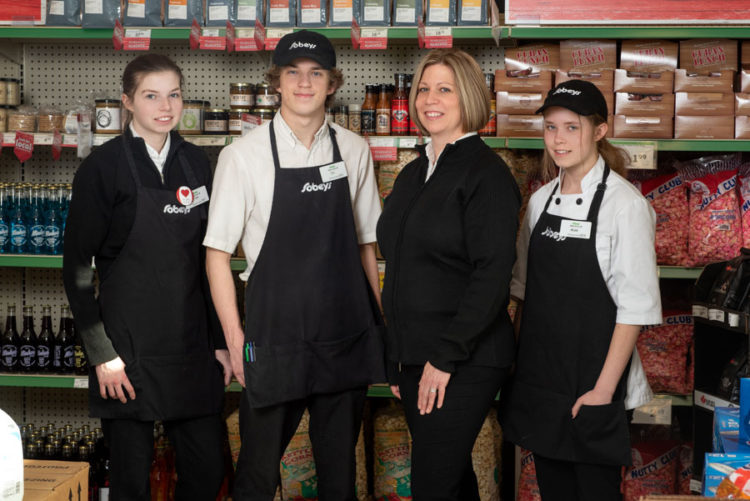 With decades of proven experience and close ties to the community, there are few grocery stores in St. Albert run with such care for their customers and teams. So, when COVID-19 first entered Alberta in March, Trenchard knew he had to act fast to ensure the health and safety of anyone who came into or out of the store.
The team needed to be educated on what COVID-19 was and how it could be transmitted. Corporate measures were put in place to ensure social distancing and establish a sanitizing protocol.
Sobeys implemented a reduced customer limit. Monitored by lobby attendants and based on how many checkout tills are open, this preventative measure allows the store to make sure customers are moving through the store as quickly and safely as possible.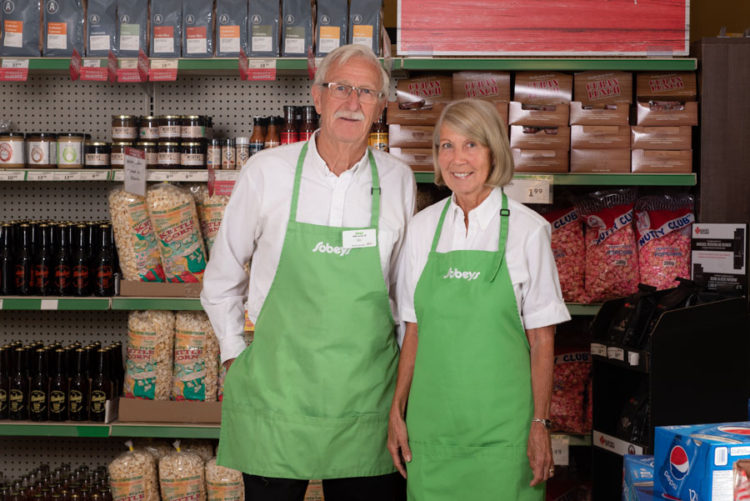 Lineups both inside and outside the store are separated by floor markers which help facilitate a two-metre distance between customers. For extra caution, queues are also observed by line attendants to ensure appropriate social distancing is being followed.
"It took a while for customers to adjust to the changes, but now I think it feels soothing to see that there are a lot less people in the store, making it easier to get in and move around."
Inside the store, customers will notice that floor merchandise has been removed in order to increase customer flow and that aisles are now subject to one-way traffic. In addition, full-service cases are closed, but self-serve product is available.
Every shopping cart and contact surface is routinely sanitized before and after use and there is even a "sanitation specialist" in place to help clean the store during peak hours.
Perhaps most importantly, all team members have been provided with gloves, masks and face shields. Also, plexiglass cashier shields have been installed at the front and back of each till.
Locally Sourced Products
With demand for certain products at an all-time high, Sobeys has partnered with various local businesses in order to keep its shelves well-stocked.
Early on, The Cotton Candy Shoppe in Fort Saskatchewan reached out to Sobeys for help selling its product during the pandemic. Immediately, customers looking for something bright during this dark time began to gravitate towards the colourful treat.
DaVinci Gelato Originale is a local ice cream shop which recently began producing hand sanitizer out of its facility. In April, DaVinci sent its first batch to Sobeys, which has remained one of the few stores in St. Albert with sanitizer readily in stock.
Another item that has been flying off the shelf is flour. Unable to obtain its usual products, Sobeys has begun sourcing flour from an organic producer in Manitoba called Prairie Flour Mills Ltd.
"We can manoeuvre very fast and respond to our customers really well because we have a great relationship with the companies that serve our store."

Stuart Trenchard
Did You Know?
In light of COVID-19, Sobeys is now offering an online home delivery service. The idea was inspired by seniors returning home from wintering in the United States who were required to self-isolate for 14 days.
Sobeys St. Albert is a loving family carefully watching over the store to ensure shoppers get everything they need, safely and affordably.
"Whether it's my family or the rest of our team members we treat everybody like family, and I think that resonates when you walk in our store."
Delivery orders can be placed by emailing the store at [email protected]
392 Mission Hill Plaza • 780-459-5909
This sponsored content was produced in partnership between Mission fun and Games and T8N Magazine