The mimosa's been making champagne waves since its birth during the Roaring Twenties. Nowadays, it's almost impossible to picture brunch without it—especially on Mother's Day. This year, why not wow your brunch guests by setting up the mother of all mimosa bars. It's easy, fun and guaranteed to get the party started. So go ahead, pour yourself a glass—then raise it to mom, to good company and the sweet approach of summer.
Begin With Bubbles
You don't have to buy expensive champagne to make a great mimosa, but don't go for bottom-of-the-barrel bubbly either. There are plenty of delicious and affordable options that mix well and also taste great on their own. Most mimosas are made with a dryer bubbly to balance out the sugars already present in the juice. Cava is particularly popular, but a dry Brut also works well. If you want something a little bit sweeter, go with a nice Prosecco or any bottle of sparkling labelled "semi-sweet." Look for options in the $13 to $25 range.
Tip: Include one sweet option and one dry option so guests can tailor drinks to their own taste buds.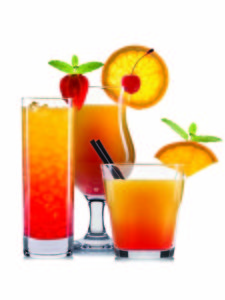 Juice It Up!
When it comes to making the modest mimosa stand out, quality juice is key. Using fresh-pressed juice will add an entirely new dimension to your mimosa bar; however, not everyone has the time, tools or inclination for such an undertaking. If that's the case, look for organic juices in the refrigerated section of your supermarket, and don't be afraid to switch things up a little! Every mimosa bar should include a significant supply of classic orange juice, but try out other options like pineapple, mango, pomegranate or pink grapefruit. Have a few selections available for guests to mix and match on their own, and always make sure that the juices are well-chilled before serving.
Tip: Include sparkling water, soda water or flavoured kombucha alongside the champagne so that non-drinking guests can get in on
the fun.
Include Great Garnishes
The best mimosa bars are two parts boozy, one part buffet. So keep guests coming back by including an assortment of tasty garnishes. Fresh fruit slices give guests something to nibble on while also enhancing the flavour of their drinks. Offer sliced mandarins, strawberries, pineapple and melon. Frozen grapes and berries have the added benefit of keeping cocktails cold without diluting them. You can also try transforming your mimosas into Bellinis with a swirl of peach puree, or pull out all the stops by pouring your bubbly over a small scoop of frozen sorbet.
Tip: Add a few drops of fruity liqueur for
an added zip of flavour. Experiment with Grand Marnier, Blackberry Chambord and Raspberry Schnapps.
Bring Out the Glassware
It's a season for celebration, so leave the plastic red Solo cups in the pantry, and bust out the good stuff. There's something special about sipping a cold mimosa out of a nice champagne flute, but white wine and martini glasses can also do the trick. Add an extra special touch by decanting each type of juice into its own glass bottle or serving pitcher—it's a simple thing that will add a hint of colour and a heap of class to your already thriving mimosa bar.
Tip: Include wine glass charms, stem labels or a glassware marker on the table, so guests can personalize and keep track of their glasses while they brunch.
Dress Up the Table
A quality mimosa bar calls out to guests from across the room, beckoning them with its delectable delights. It's easy to create a space that attracts attention with a few simple touches. Start with a nice tablecloth, and add a hint of festive colour. Scatter a few handfuls of fresh flower petals, sequins—even jellybeans! Next, place glassware and a few bottles of each type of bubbly on the table, keeping any open ones chilled in an ice bucket. Create handmade labels for each juice, and hang them from the bottles. Lastly, set out bowls of sliced fruit and other garnishes accordingly, and add tongs so guests can serve themselves.
Tip: Use a small chalkboard or print a fun sign with instructions for guests. "Pour bubbles. Add juice. Garnish with fruit. Enjoy!"  t8n
Tropical Tango Mimosa
Go back to the tropics with this fun twist on the classic.
Fill your flute 1/3 full with champagne. Add 1 ounce of coconut rum, then top with equal parts orange and pineapple juice. Garnish with a slice of pineapple and a few drops of grenadine syrup. Delicious!
Apple Cinnamon Mimosa
Is it breakfast or dessert, and does it really matter?
Combine 2 tablespoons sugar and 1 tablespoon cinnamon. Lightly dip the rim of each flute in water (or caramel sauce, if you're really ambitious), and
roll the wet rims in the sugar mixture. Fill each flute with equal parts champagne
and chilled apple cider, then garnish with an apple slice. Savour slowly.