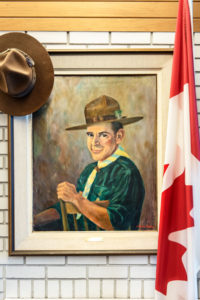 The story of Leo Nickerson Elementary School starts with a storm—an unfortunately tragic one. On July 14, 1961, St. Albert resident Leo Nickerson was leading a Cub Scout camp at Wabamun Lake when turbulent winds and waves threatened a number of boys in the water. Although the 36-year-old managed to rescue two, he and three boys succumbed to the strong waves. For his heroic actions, the Protestant Separate School District No. 6 decided three years later to name their new elementary school in Sturgeon Heights after him.
1960s
The school was the fourth to open in the fast-growing district and the first not to be named after a prominent figure from Canadian history. An official ceremony was held on June 24 1964, at which Nickerson's widow Sylvia laid the cornerstone. Classes began on September 1 for 225 students, with local high school teacher Joseph Garber taking the helm as principal. Getting in slightly ahead of the kids, though, was the local Anglican church, which decided late August to move its services from Paul Kane to the newly built school while its own building was being constructed.
Leo Nickerson parents took an active role in the school. The Parent-Teacher Association was meeting monthly from as early as the 1968-69 school year, and for a time, they were the only PTA in town. The group was front and centre during the spring of 1969 as reports emerged that some teachers at the school were somewhat liberal with their use of corporal punishment and even foul language around the students. The controversy led to Principal Garber's resignation, with Lowell Throndsen taking over as his replacement.
1970s and 1980s
The school's second decade saw a few interesting attempts at innovation. In 1970, the idea of replacing the traditional report card with parent-teacher interviews was briefly floated—and just as quickly shot down by parents. The results of a survey came back 151 against and only 10 in favour. Then, in 1974, years before the Sorting Hat put a young Harry Potter into Gryffindor, Leo Nickerson implemented its own sorting system. The brainchild of incoming principal Frank Carnahan, students were divided into four houses: Aquarius, Gemini, Scorpio, and Taurus, with the goal of creating a sense of belonging and friendly rivalry.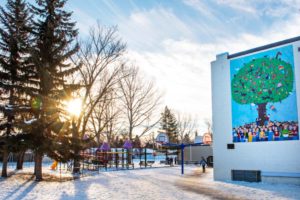 During the mid-1980s, the school saw some longer-lasting changes. A French Immersion program was introduced, initially serving Kindergarten to Grade 4. Renovations to the tune of $1 million resulted in a new gym in 1986, marked by the unveiling of a commemorative plaque by Sylvia Nickerson. In June of 1987, a new playground was opened, led by a committee of students, teachers, and parents who raised $77,000 to finance the project. Students' Union president Shannon Hayes "cut" the ribbon by riding her bike through it.
1990s and 2000s
Glenys Edwards took over as principal in 1997, a position she would hold until her retirement in 2012. One of her first actions was to add a third track, Logos Christian Education, to its English and French programs in September 1998. The Logos program, a concept that places the curriculum in a faith-based context, began with 80 students and has since grown to cover Kindergarten through Grade 9, with 200 students split between Leo Nickerson and Elmer S. Gish. (All will be moved to Joseph M. Demko when it opens in September 2019.)
The program's success led to a population boom at the school during Edwards' tenure. Through the mid-90s, enrollment had hovered around 300 students before climbing to 481 in 2000-01 and 555 in 2005-06.
Today
Close to 700 students called Leo Nickerson home when it celebrated a milestone anniversary near the end of the 2013-14 school year. On June 24, 2014, 50 years to the day of that inaugural stone laying ceremony, students, staff, and guests—including Sylvia Nickerson and her daughters—gathered to mark the occasion. t8n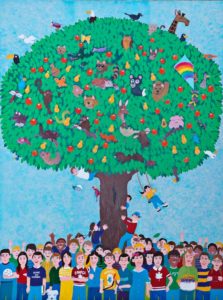 Joseph M. Demko School
When it opens later this year, Joseph M. Demko will be the newest public school in St. Albert. The two-storey, $15.9-million school is going up in Jensen Lakes, not far from the new Catholic Sister Alphonse Academy. It will have two program tracks—English and Logos Christian—and will accommodate a whopping 900 students.
The school's namesake, Joe Demko, joined the district as a teacher in the late 1960s, and later served as Superintendent before retiring in 2005.