The pages of Justina Smith's travel journals are filled with drawings, watercolour paintings, descriptions, photos—visual reminders of days spent wandering through Toronto's graffitied alleyways and Kyoto's blossoming cherry tree-lined streets. They're also marked with entries much closer to home. Growing up in Red Deer, Alberta, the mixed-media artist made it her mandate to find beautiful places in a city that so many of her peers looked down upon. Since then, she's built a career capturing ordinary moments in time—across the world, the country, and her own backyard.
Justina first put pen to page during her travels because she didn't have a lot of money for souvenirs. But she also realized that stopping to draw a place forced her to take the moment in, rather than rushing off to see the next thing—a practise she now carries into everyday life.
"Instead of just passing through I'm more of an active observer," she says.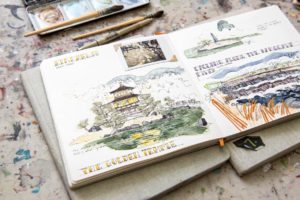 How does she go about finding beautiful moments in everyday life? "I've cultivated the habit," says Justina, noting that she's spent so much time writing down ideas or taking photographs of things to paint that it's almost a reflex now.
In addition to her sketchbooks, the full-time artist is well known for her playful animal portraits, travel paintings, and landscapes. And all through her art you'll find threads of found experience, details of a moment that Justina slowed down to discover.
By painting, Justina creates a visual record of how a place existed in that moment.
"Some of the buildings and other things I've captured don't exist anymore, or the neighborhoods have changed, or they've put up a big building so the light is never going to hit that area the same way again."
On a recent trip to Japan, Justina encountered a practise that she already had in common with the locals: appreciation for where you live.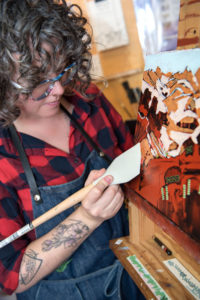 "The people in Japan make a point of going around their own country to see the cherry blossoms. It's a pastime called 'hanami,' which loosely translates to cherry blossom viewing."
Her favourite pages from the trip are filled with a mix of photographs, sketches of local foliage, and a watercolour drawing of a thatch-roof hut in the Hashimoto Kansetsu Garden in Kyoto. "I spent half my time there drawing, and the other half just sitting there, looking at the rain and this beautiful garden."
Justina is happy for the opportunity to travel, but her art shows that you don't need to go far to find beauty in a place. "There is a ton of stuff wherever you're at if you just go looking for it."