When it comes to Christmas libations, there's more to sip than mulled wine. As festivities pick up, now's an ideal time to try a fun new cocktail (or three). Whether you're hosting a Christmas party, unwinding after wrapping presents, or just dreaming of a tropical holiday on the beach, we've got you covered with an assortment of mixed drinks from local establishments.
Central Social Hall: Basic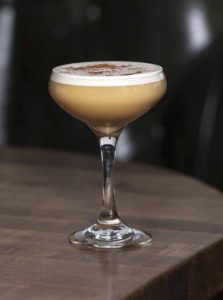 The pumpkin in this says Halloween, but egg (think nog), nutmeg and Frangelico sing out for Christmas. This cool drink combines the best of the all the year-end holidays, promising to keep your spirits high and your soul warm throughout the darker months. centralsocialhall.com
1 whole egg
1.5 oz Spicebox Pumpkin Spiced Whisky
(or your favourite whisky)
0.5 oz Frangelico liqueur
1 oz pumpkin syrup
0.5 oz cold-brewed coffee
ground nutmeg (garnish)
Add all ingredients to a shaker, starting with the egg in case you drop a shell in. Vigorously 'dry shake' (this means without ice) for 30–45 seconds to emulsify the egg. Now add ice cubes to the shaker and shake again to chill. Strain into coupe glass and garnish with nutmeg.
The Cajun House: Cajun Pickled Caesar
A great drink for all seasons, the Caesar is as Canadian as maple syrup pie. (Ahem, that is if you use Clamato, otherwise it's just a Bloody Mary). In this version, the pepperoni and pickled hot pepper spice things up even more, making it a perfect antidote for the cold. cajunhouse.net
fine sea salt (for rim)
1 oz dill pickle vodka
.75 oz dill pickle juice
1 tsp horseradish
6 oz Motts Clamato Extra Spicy
1 pepperoni stick, pickle, and pickled hot pepper (garnish)
Salt the rim of a tall tumbler, and add ice cubes, dill pickle vodka, dill pickle juice, horseradish and Clamato. Garnish with pepperoni, pickle, and pickled hot pepper on a skewer.
Delux Burger Bar: Dragon's Breath Mojito
The breezy, sunlit mojito might not be the first thing that winter brings to mind. But then again, there's nothing like sweet minty citrus to help you conjure a Caribbean beach when you need it most.
deluxburgerbar.com
1.5 oz Bacardi Raspberry white rum
0.5 oz Chambord liqueur
4 fresh mint leaves
2 lime wedges
0.5 oz simple syrup
1.5 oz fresh lime juice
5 frozen raspberries (or cranberries)
1 oz soda water
In a shaker glass, add the Bacardi rum, Chambord, mint leaves, and 1 lime wedge. Muddle gently until the mint is bruised. Add the simple syrup, lime juice, berries, and a handful of ice cubes, and shake 25 times. Pour into a pint glass and top with soda water. Garnish with a lime wedge. t8n