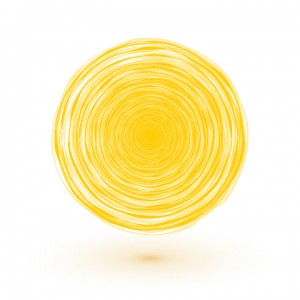 The sun. It rises and sets every day without being asked. No wonder we so often take it for granted. The reality, however, is that its capabilities are, well, out of this world. For starters, the sun is a clean, reliable source of renewable energy—and has been for over four billion years. Also on this star's resume is the ability to power the Earth efficiently and economically, from 150 million kilometres away! Impressed? Us too. Here are some basics about using its power.
Sunshine into Electricity
With growing concerns about global warming and fossil fuel depletion, the use of solar power for thermal and electrical energy is rising. In Canada, the installed capacity of solar photovoltaic power (electricity) grew by nearly 150% annually between 2008 and 2011. But what is photovoltaic power and how does it work?
Photovoltaics comes from photo, meaning light, and voltaics, meaning electricity. Photovoltaic cells are also called PV cells or solar cells. Individual PV cells are grouped into panels, and panels are grouped into arrays. The panels change sunlight into electricity when the sunlight hits the semiconductor material (usually silicon) in the PV cells and creates electrical current.
The electricity generated in the cells is direct current (DC), usually used for small electronic equipment. For larger commercial purposes, such as solar energy, direct current must be converted to alternating current (AC) in a device called an inverter.
Photovoltaic electricity can also be returned to "the grid," which is all the components of the network that delivers electricity, such as power plants, transformers and transmission lines.
Harness the Sun at Home
If you want to harness the sun's power, you don't need to convert your home to solar energy (although you can). Instead some small, relatively inexpensive products that run on solar-generated electricity are now available. You may already know about solar calculators and watches, but many other cool products for your comfort and entertainment run on energy from the sun. Here are a few that might catch your interest:
Sunforce Solar Mosquito Zapper
This quiet, pet-safe device kills mosquitoes and other insects to help you enjoy the outdoors without the nuisance of bugs.
What it does: The zapper uses the sun's energy to power a blue LED light that attracts insects and a high voltage that kills them without smelly or harmful sprays or chemicals.
How it runs: Solar cells on the top of the device charge the long-life batteries that provide power.
Other features: The zapper is easy to install; you can hang it, place it on a flat surface or secure it in the ground with the spike that's included. It's also portable, so you can take it to the park or on a car trip. Little maintenance is required.
Approximate cost: $30
OWI 7-in-1
Rechargeable Solar Transformers
This fun toy kit encourages kids to be creative as they build and play with solar-powered miniature vehicles.
What it does: The kit comes with pieces that can be changed and reconfigured to build five vehicles: a bulldozer, a concept car, a concept racer, a dump truck and a solar car.
How it runs: The recharging station has output plugs for solar recharging and for battery recharging. The super-fast solar station charges fully in about two minutes. Toy running time is about one to one-and-a-half minutes.
Other features: The pieces snap together quickly and easily without screws or tools. The packaging is designed to become a stunt ramp for the vehicles to jump.
Approximate cost: $49
Rugged Rukus Solar Speaker
This sturdy speaker by Eton allows you to listen to music wirelessly from any Bluetooth-enabled device.
What it does: When fully charged, the speaker plays music for about eight hours. With two full-range speaker drivers, it offers high-quality audio with stereo sound.
How it runs: The solar panel charges in under five hours in direct sunlight. If you run out of power at night, an internal lithium battery kicks in.
Other features: The speaker comes with loops for attaching it to a backpack so that you can take it anywhere, and it's splash-proof, so you can use it by the pool or lake without worry. It also has a built-in USB cellphone charger.
Approximate cost: $90
Astonica Solar-Powered
Lighted Patio Umbrella
This umbrella offers shade by day and ambient lighting by night to enhance your outdoor environment any time of day.
What it does: The umbrella's inner spokes have pre-installed white LED lights (30 in total) to offer a gentle glow after dusk.
How it runs: The solar panel on top of the umbrella charges all day to run the lights at night.
Other features: The umbrella canopy tilts easily, is 3 metres in diameter and is made of lightweight, weather-resistant fabric. It is available in two colours (taupe and scarlet) and two shapes (round and rectangular).
Approximate cost: $90 to $160, depending on shape and colour; required base sold separately
Solar-Powered EasyShade
These retractable outdoor sunshades by SunSetter fit outside your windows to keep indoor spaces cool during summer.
What it does: The EasyShade blocks about 90% of the sun's heat while using its energy as a power source. The shades are also suitable for other spaces such as porches and gazebos.
How it runs: The PV panel attaches inconspicuously to the outside of the shade housing, so you can hardly see it. During the day, the panel charges the built-in battery pack, which stores power to operate the unit. Because the panel doesn't need direct sunlight to stay charged, it works even on cloudy days.
Other features: The EasyShade is remote-control operated. It comes in sizes from 1 to 4 metres to fit most windows. It's available in three colours.
Approximate cost: starting at $690, including shipping & handling t8n
Hot Sun Stats
In one minute, the sun gives off enough energy to meet global needs for a year.
In one day, it radiates more energy than the world's current population could use in a quarter century.
In three days, it provides about as much energy as what's stored in all Earth's fossil energy sources.
Solar Energy Society of Alberta
In 1976, the non-profit Solar Energy Society of Alberta (SESA) was formed to promote the understanding and use of solar energy. It provides resources for schools, the government and the general public through workshops and exhibits. Read more about solar energy in Alberta at solaralberta.ca.