Have you ever been out to dinner with a bunch of friends, having great food and grand conversation—until the group bill arrives? An awkward quiet falls while everybody counts out how much to leave for their meal plus gratuity. Then, inevitably, the tally either comes up short or way over, and members of the party are quizzed about how much they put in for meal and tip. All too suddenly, the good vibe from earlier wanes, and diners leave the gathering wondering if they put in too much or too little.
The subject of tipping—a gratuity, a.k.a. reward for good services—can make for excited, even heated, conversation. Not so much because its practice is controversial (although a vocal contingent favours higher wages to tipping) but because of the confusion that surrounds it. Should you tip the cashier when picking up a take-out order? The clerk at the fast-food drive-thru? How about the valet who helps carry your bags into the lobby upon arrival at your hotel?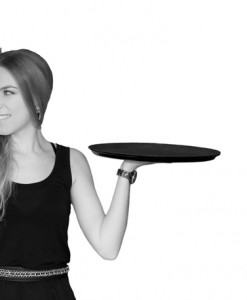 Even though it's well accepted—even expected across North America and in many other countries in the world—hospitality service jobs in restaurants, salons and hotels leave an open-to-interpretation grey area: Do you tip the person who washes your hair, as well as the hair stylist? Housekeeping staff at the hotel? Nightly or at the end of a stay? What if it's just for one night? Just who to tip and how much can cause anxiety for the tipper and affect the attitude of the worker who relies on the gratuity to supplement his or her income.
A few years ago, Edmontonian Stuart Thomson was putting himself through university and working a summer job at a pub in the north of England. Used to the tipping culture back home, the then 20-year-old student was disheartened to see that customers paid exact change for their beer, occasionally leaving a 'and one for yourself' tip, but nothing more.
"I didn't think it'd be a good summer financially. But the paycheque I got, thanks to a higher-than-minimum wage, was much more than I would've earned with a lower wage plus tips. That trip was a real eye-opener for me," says Thomson, firmly in the camp of those who would prefer ours to be a tip-free society where business owners pay their workers a higher wage and take away the pressures of tipping. "I always tip out of awkwardness. I don't want it be a weird situation—there's a mix of guilt and just wanting to get it over with. Sometimes I tip servers even more; not for great service but because it looks like they're having a bad day. I'd be down with a standard service fee because at least then it's clear-cut. There's no wondering what to do."
Social Customs
By definition, a gratuity is the sum customarily offered on top of the basic price to service-sector workers for a performed or anticipated service. Tipping is a social custom that differs between countries, so etiquette experts advise knowing where it's okay and who to tip before travelling. In Japan and China, for instance, tipping is not customary and is sometimes viewed as rude. Many countries in Europe include an automatic service charge on a restaurant bill, but the hotel bellman and cab driver will happily take a Euro or two for their efforts.
In relation to much of the world, the U.S. and Canada are tip-happy places, with everyone from the bartender (often $1 a drink), tour guide (10 % of tour cost) and hotel maid ($1 to $3 per day, in cash) eager to earn that gratuity.
"People are well-travelled today, so they are usually aware of the different customs. The U.S. has a lower minimum wage ($7.25 per hour), and its citizens have a reputation as great tippers, but Canadians tend to be in the habit of leaving a tip too, even on pre-paid cruises and all-inclusive holidays," says St. Albert resident Grant McCurdy, who has spent nearly four decades in the hotel and hospitality industries, and is now general manager of the DoubleTree hotel in West Edmonton.
There are even slight variations in tipping across Canada, where minimum wage ranges from $10 in NWT and $10.20 in Alberta and Saskatchewan, to $11 in Nunavut and Ontario. When she was a server in her native New Brunswick, new Edmontonian Sonja Gould says she always got and gave tips at the Tim Hortons and McDonald's. "We'd always say, keep the change. I made $70 in tips working at Timmy's in just a few hours one Christmas Day. It's just part of our culture," she says.
Going Rates
Do you tip your hairdresser, aesthetician or masseur? If you do (and experts say you should), 15 to 20 percent is the going rate. And what about the cab driver? Again, 10 to 20 percent of the fare is common—most folk round an $8 fare up to $10. Airport shuttle drivers see tips less often (a flat-fare cab ride from St. Albert to YEG is about $70), but a couple of bucks to a helpful, friendly driver is not uncommon.
Blair Logan, owner of St. Albert Taxi, says about 80 percent of customers do tip, usually adding about 10 percent to the tab. Logan says tips are based on service, plain and simple. "If the driver gives good, quick service and carries on a friendly conversation, the tips are better," he says. For each 12-hour shift, drivers pay Logan's company a rental fee, footing the bill for their own gas too. "When drivers wash the windows and keep their car clean and fresh-smelling, people tip better. And tips tend to be better on the night shift when folks are out drinking, at parties or just being more joyful."
If there's a code of conduct governing the murky matter of tipping, McCurdy says there's really only one guiding rule: tip if the service is good. Across North America, the standard is now 15 to 20 percent of the pre-tax total. An easy way to calculate, some say, is to triple the 5 percent GST shown on the bill. But our increasingly cashless society means most of us face a payment machine with prompts on how much to tip (usually 15, 18 or 20 percent) or a dollar amount.
Those who don't like payment machines may shudder at this cautionary tale. A couple of months ago, a customer at Bing's Restaurant in Stony Plain left a tip of $228.83 on a $39 takeout order of Chinese food. While it's believed the customer made a mistake when keying in the tip amount on the credit card terminal, Bing's owner William Choy said the incident has provided plenty of conversation among his regular customers.
"No one has come forward despite a lot of publicity about the story. It's likely a mistake, and maybe someone is too embarrassed to own up to it. We've had big tips for catering events before but never anything like this," says Choy.
Most banquet-type functions (business events, weddings, etc.) and restaurant bills for groups of 8 or more include an automatic gratuity (up to 20 percent), but McCurdy says the rest of the time, a tip is given at the discretion of the customer. "A tip can make both the diner and server feel good—it's human nature to want to reward someone for good service, and it's an encouragement to the server," he says.
The relationship between customer and staff at San Remo Italian Bistro in downtown St. Albert is probably more akin to an Italian village than a small city, but owner Ermanno Feliciani says he doesn't know any other way to do business. Regular customers are welcomed by name here. Sometimes even calling ahead to the kitchen to ask for a special dish that isn't on the menu. Feliciani says tipping is an organic part of that relationship, a thank you from a customer to serving or kitchen staff for a good meal, ambience and personal attention.
"Those extra touches count. I'm serving a gentleman tonight and I can tell you when he'll come in, what he'll order, how long he'll stay and what he's having for dessert," says San Remo server Dave Provost. "We build relationships here—create good karma. Tipping isn't the be-all, end-all of this business. If we treat the customer right, the tips come. I think you have to have a passion for the work. If you're just thinking about the tip, you won't last in the business."
Tipping Out
In restaurants, servers usually get the biggest slice of the tipping pie, but kitchen staff, bartenders and bussing staff are normally 'tipped out'—given a share of tips pooled from servers at the end of a shift. Some restaurants mandate this practice; others just suggest it. At San Remo, Feliciani says servers tip out a percentage to other staff who refill water glasses, grate cheese for patrons or, like with Chef Federico Innocenti, create a special order for regular patrons.
Famoso Neapolitan Pizzeria operates on a different system—a combination of counter and table service where servers and kitchen staff share tips. St. Albert's general manager Adam Carmichael, who oversees a staff that is 95 percent students, says the team-oriented service style means fewer tips, but the trade-off is short shifts, with no waiting around for tables to finish up. "The tips average out—the lousy ones with the great ones," says Carmichael. "I always remind my staff that a gratuity is just that—it's not demanded or automatic. Don't expect it."
Economic Uncertainty
For those that rely on tips, the economic uncertainty in Alberta will likely put a dent in their bottom line. Dave Kaiser, president and CEO of the Alberta Hotel and Lodging Association (AHLA), says high-end hotels are already seeing a slowdown in corporate travel, which trickles down to all staff, from room service and lounge servers to housekeeping.
Kaiser says Calgary was the hottest hotel market in Canada for the last couple of years, "But that's falling off now, and there's a ripple effect. The hospitality industry is heavily dependent on travel and tourism, so we're -seeing a move away from costly room service to more self-service lobby kiosks for grab and go snacks."
Even a lower minimum wage doesn't help a business' bottom line though, says Kaiser, where razor-thin profit margins vie with the more pressing problem of a worker shortage for entry level positions. Ultimately, hotels have to pay workers more than minimum wage to keep them, he says. According to a 2013 AHLA labour market survey, food and beverage servers earned an average of $11.15 per hour, while housekeeping attendants took home $14.37 per hour.
"When a worker relies on tips, the lower minimum wage in Alberta doesn't matter. Until now, we've had a robust economy, which means more diners and more tips. It varies widely, but the result is that the average server actually earns over $20 an hour," Kaiser says.
Mark von Schellwitz, Western Vice-president for Restaurants Canada, says most Canadians and Albertans are very comfortable with tipping practices. He points to a recent failed attempt at a no-tipping eatery in B.C. and says it's because patrons want to have some control over their dining experience, while servers like the incentive a tip provides. "If you offer exceptional service, the tips are higher. Poor service equals poor tips," says von Schellwitz. "Many earn a good living this way—whether in an entry-level job to help make it through university, or as a lifelong career."
The consensus on tipping is, there's no consensus. Since a gratuity isn't obligatory, customers will still have the option to give whatever they choose for the service they receive. And those who work for the tips will keep doing their darndest to tip the odds in their favour. t8n
Fast Fact There are 2.5 million visits to restaurants every day in Alberta—that industry generates $10 billion in annual sales. Some
22 percent of Canadians held a first job in the restaurant business—the highest of any industry.
Did You Know?
Restaurants Canada reports that the country's restaurants employ over 500,000 people under age 25—that's one in five youth jobs. Overall, the industry employs 1.2 million people, making it Canada's fourth largest employer.