When it comes to getting inspired, there's no better muse than nature. And when you live in Alberta, that enchantress is the fall landscape. Amber branches laden with bright berries, bountiful crabapples, and rosy rosehips—the neighbour's chrysanthemum?
If you haven't guessed, this decorating DIY sent us foraging. And what we couldn't source in the backyard was easily acquired in the lane and from sweet neighbours. A snip here, a stem there and—presto!—the dinner table is served.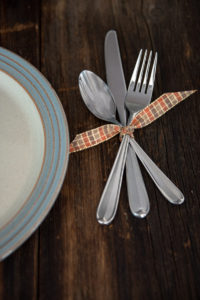 1. Don't get hung up on traditional fall colours. This palette of browns and blues feels autumnal without even trying.
2. Bundle and tie your cutlery with beautiful ribbon. They'll look great beside each plate or in a stack at the buffet table.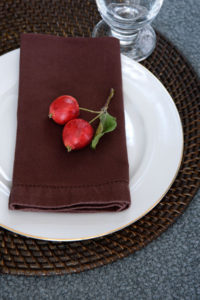 3. Crown each place setting with a napkin and a sprig of something foraged from nature (berries on a branch, crabapples with leaves or even a perfectly ripe and blushing pear from the market).
4.  Add chargers. They'll add texture, create layers and lend a sense of occasion to the table.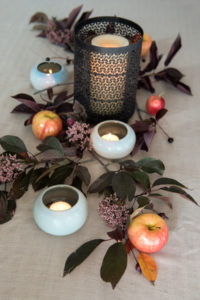 5. Create a table runner of branches and foliage, and dot it with a meandering line of candles, fruit and berries.
6.  Break out a tablecloth. And don't worry if it's not fancy. A beautiful table is all about creating complementary layers (not one perfect one), so think outside the linen closet. Consider using a throw (or two), a quilted blanket or even a top sheet.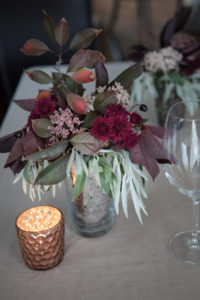 7.  Instead of spending money on one large centrepiece, create small arrangements in mismatched vases and stagger them down the centre of your table or buffet. Our plant material came straight from the backyard and lane. Thank you, neighbours!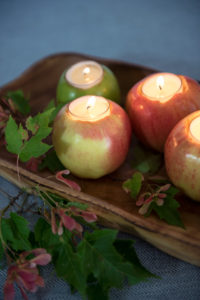 8. Get creative with your votive holders. Use apples, miniature pumpkins or any fruit that can be cored to fit a tea light. If open flames aren't an option, substitute with battery candles. They've come a long way and even have timers. t8n
—