When it comes to visual culture in St. Albert, Pam Gendron is a huge supporter. "St. Albert is a very artistic community," says Gendron, rental and sales associate at the Art Gallery of St Albert. "There are so many talented artists and artisans here. It's a wonderful cornerstone of the community."
ArtWalk St. Albert has been adding to that cornerstone for the past decade and a half. The local event, which this year takes place on the first Thursday evening of each month between May and September, lets St. Albertans explore and experience art at various venues downtown. With the next ArtWalk coming up June 6, T8N is providing a behind-the-scenes look at the unique creation, installation, and experience that ArtWalk St. Albert provides.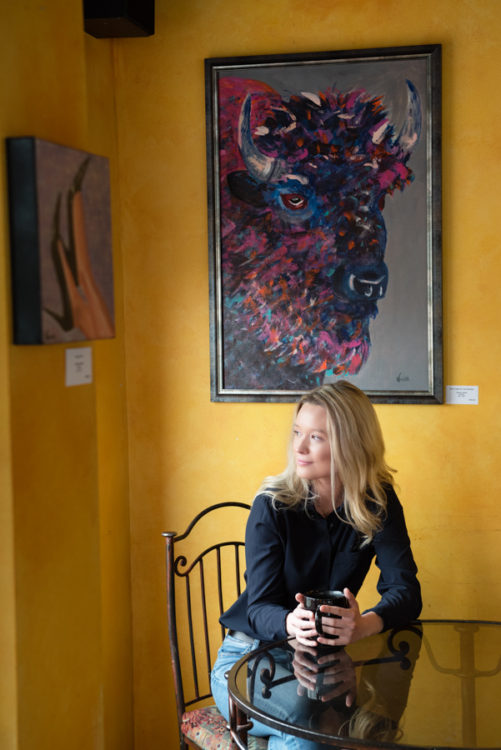 Five Thursdays, One Summer
"It was packed and people were just loving it," Gendron says of the AGSA's High Energy 24 exhibition, part of ArtWalk's May program. The exhibition showcased art by St. Albert high school students and ran throughout the month. It was just one part of a full slate of artsy activities offered on May 2. Although outdoor activities had to be cancelled due to winter's lingering grasp, a number of venues downtown displayed and sold art in various forms.
Visitors even had an opportunity to create their own works of art, collaboratively painting clay pots donated by Canadian Tire. The pots were to be planted (soil and plants also courtesy of CTC) and placed outside venues throughout the summer, a colourful example of art brightening a community.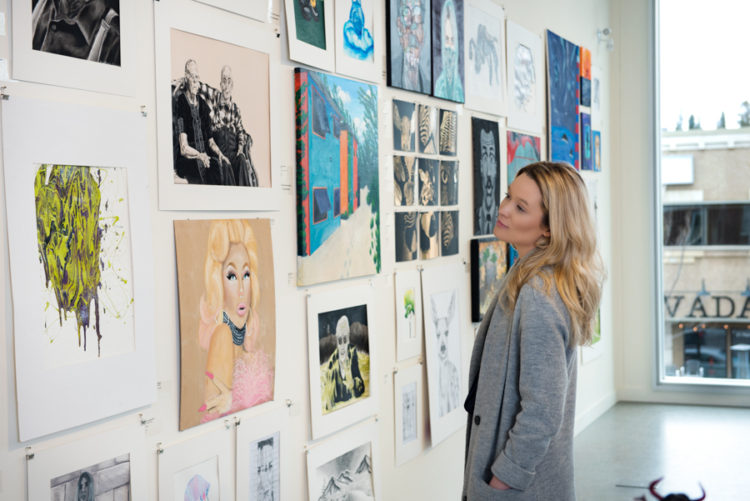 From Humble Beginnings
Oddly enough, while ArtWalk has graced downtown St. Albert for several years now, its early history is "a bit blurry," Gendron admits. It's generally agreed the event is at least 15 years old, and early on, was mostly focused on the corner of Perron and St. Anne. "Up until a few years ago, record-keeping was not a big thing for ArtWalk," Gendron says with a laugh. "We're trying to fix that and have a history going forward."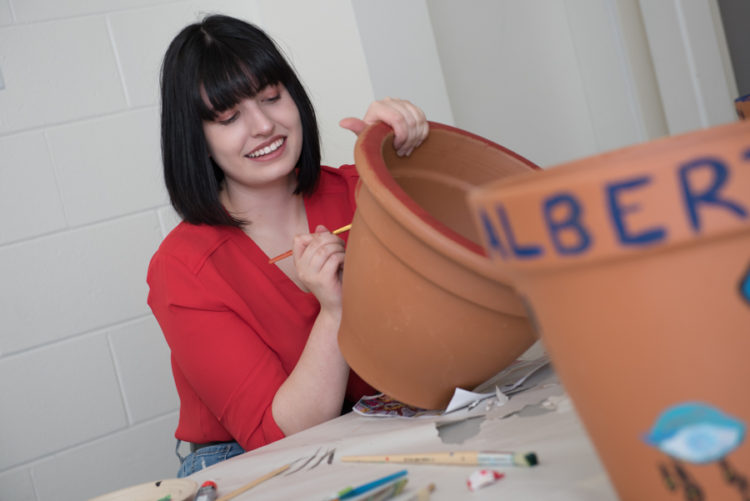 That history has witnessed a great deal of growth in those 15-plus years. These days, ArtWalk St. Albert is run by a committee comprised of representatives from the various venues and participants. As the AGSA rep, this is Gendron's third summer with ArtWalk. In that time, she's seen the event continue to evolve and spread. One change is that the last couple of seasons have seen more volunteer participation. This, in turn, has taken some of the work off the shoulders of the organizers, allowing them to concentrate more on planning programs and activities.
Coming this Summer
"One goal is to see each ArtWalk as busy as the last one," Gendron says of this year's vision. As with other events spread over multiple dates, public interest can either surge or wane. "We just want to keep that level of engagement up all season."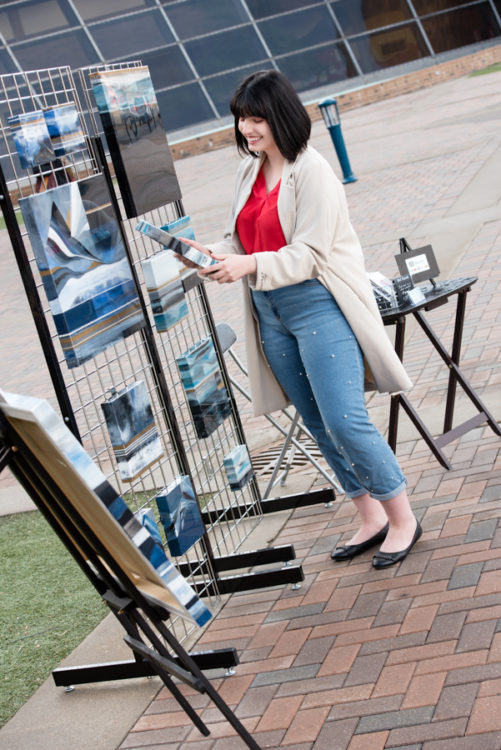 The new ArtWalking tours should help with this. These tours of up to eight cost $5 per person and take people on a guided tour of different venues. They also jibe with ArtWalk's focus on walking. While new venues continue to be added, the focus is on keeping everything within walking distance downtown. "We don't want people to have to get in their car and go across town to another place," Gendron says. "This is as big as our footprint is going to get."
The June Program
While ArtWalk may be limited in physical size, there's a lot that can be done in that space. The June 6 program will see a new venue at La Crema, and visitors will be able to take part in "yarn bombing," a recent street-art trend that sees yarn—crocheted, knitted, braided, and so on—used to cover and decorate objects in public spaces. Visitors will be able to form impromptu knitting circles, with instruction provided, and their work will be collected and installed in different parts of the city. Moreover, materials will be provided so that people can continue to add to these "yarn sculptures" over the coming months.
It's one example of how ArtWalk St. Albert wants to make art accessible, a tool to connect people and beautify a community.
"Art is a reflection of the world around us," Gendron says. "It changes the way your space works. You can talk about it, you can create different dialogues."
With that in mind, expect plenty of chatter regarding the changes ArtWalk St. Albert is promising this summer. t8n