Pet owners often dread having to leave their beloved pooch or feline friends behind when travelling, or left alone during long working hours. However, it can be hard to find a good (and affordable) pet-sitter or boarding options.
The Ranch Pet Care is a solution that provides daycare, boarding and – for people with extra-busy schedules – transportation to and from the facility.
"With just about 12 years behind us, we have had made so many special connections with pets and their owners," says Brent Jenkins, one of the owners of the Ranch. "We have tried incredibly hard to create a home away from home for our guests. We love watching the pups fly out of their front door to board the bark and ride shuttle or sprint from their owner's car down to our office door waiting to get in to play."
Located just northwest of Edmonton, The Ranch has been operating since June of 2008. It's a family business started by the Jenkins (Gary, Judy, Kim, Neil, and Brent). "We grew up with our dogs being a central part of our family," says Brent. "We would watch our friend's and family's animals while they were away, volunteer to walk dogs in the neighbourhood, and just do anything we could to be around pets of all kinds. As we grew older, creating The Ranch was just the natural progression and application of our caring and passion for pets."
The Ranch offers boarding and daycare services – and more – for dogs and cats.
"With 26 different play spaces, our canine guests can enjoy playtime in a small group catered to their behaviour and play style," says Brent.
Offerings include sports packages, boot camps, and pampering services that can be scheduled on any visit. Guests can also enjoy individual activities such as leash walks, doggie tennis and swimming.
And for cats? "Our feline guests sleep and eat in their own individual condo, but have full access to our spacious adventure area and kitty garden during the day," says Brent.
There is also extra fun in the summer, when dogs and cats can also enjoy poolside parties, where the bigger pups dive in off the side to chase a ball, while some of the smaller swimmers are put on floaties to enjoy the water in the sunshine.
The staff at The Ranch, not surprisingly, are people who love animals and are in it for the long haul.
"When it comes to building a strong relationship with our clients, we believe that stability is extremely important for both pets and their owners," says Brent. "Familiar faces help to create a comfortable transition for each pet. Our care team consists of experienced handlers, managerial staff with degrees in animal sciences, and individuals who are currently enrolled in educational programs with the goal to pursue a career in animal services. We also assist in providing placement and work experience
programs for students in post secondary animal care programs."
And according to Brent, business is booming. "We had a great year in 2019 and are looking forward to the same in 2020. We are continuing to grow and are always looking to improve and add new services for our clientele. We some exciting plans for the upcoming year!"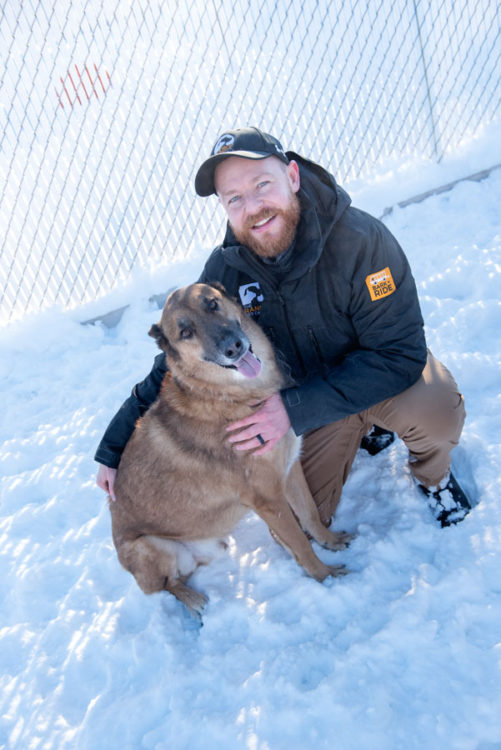 While the Ranch provides its services for dogs and cats, they have assisted in caring for a number of different types of animals (such as birds, guinea pics, hamsters, and rabbits) through working with a variety of organizations. t8n
Address: 54302 Range Road 261, Sturgeon County
Phone: 780-459-2746
Web: theranchpetcare.com
Instagram: @theranchkennels
Bark + Ride
The Ranch's most popular and unique amenity is a boarding/daycare transportation service that accommodates all breeds and sizes.
"Bark + Ride picks up and drops off your pet for scheduled boarding or daily for daycare," says Brent. "With a variety of passes and options, B+R transportation can make any visit to the Ranch that much more convenient. Our daily daycare program currently operates in St. Albert, while we offer boarding pick-up and drop-off services to the entire greater Edmonton area."
The Ranch offers a number of Bark + Ride packages that include full daycare days and transportation to and from The Ranch. Pick-ups can be scheduled as early as 6 a.m. and as late as 6:30 p.m.
• 10 Pack (Single Dog) $350 ($35/day)
• 10 Pack (Double Dog) $399 ($40/day)
• 20 Pack (Single Dog) $599 ($30/day)
• 20 Pack (Double Dog) $699 ($35/day)
Boarding pick-up and drop-off is $30 within St. Albert city limits, and $50 for Edmonton and surrounding areas. Pick-ups and drop-offs for overnight boarding is available for Spruce Grove as well and is a $50 round trip. Same-day pick-up and drop-off service is only currently
available in St. Albert.