Ars longa, vita brevis (Art is long, life is short). It's a sentiment that many have read and contemplated but that few have taken to heart. Artists Amy and -Tanner Skrocki are among those few. And heart is exactly what they pour into their partnership. Much like their work, their history is a story of transformation.
When they met 16 years ago, Amy was a high-school student and Tanner was a writer working in a music store. Amy, appreciating Tanner's CD recommendations (and his music magazine), sent him an email telling him so. Tanner, flattered and intrigued, sent his "fan" a few more samples of his writing but admits that he hadn't a clue who he was emailing. Today, Tanner's far more sure, and Amy's not only the most talented person he knows but also his mentor in the studio and his partner in work and life. Together they are the multi-talented team behind Paragon of Design—a design house featuring wearable art inspired by artifacts, fantasy and passion.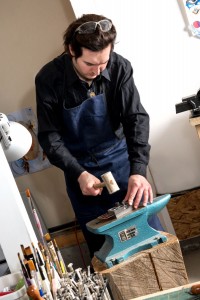 On the day we visited, we had the pleasure of witnessing just how talented they are. Holding the titles of metal smith, leather smith, sculptor, bookbinder, etching specialist, writer, composer and historian—this dynamic duo gave us a glimpse into the fine art of hard work and the hard work of fine art. Take a look.
"When we travel, we go to all the museums and historic sites we can to get inspiration. And we'll just take our journals and start writing and drawing and adding photographs or postcards we find along the way so that we can 'document' what we've seen and imagined while we were there. When we get back, we use it to come up with characters we think would have lived through that time period and then write little stories about each of them—who they are, what they'd do and wear. Amy does most of the dreaming and comes up with the ideas, and then we go away and bring them to life."
–Tanner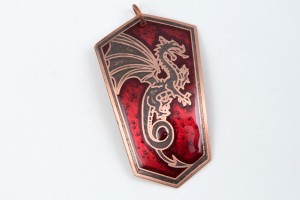 "Tanner is the one who always keeps me going. I run all my ideas past him. Sometimes he'll think I should change something, and I'll be all, 'No!' (laughing), but mostly he says, 'I think you should just do it.' Everyday, he just keeps saying it. I wouldn't be able to do the stuff we're designing now without that support—without him. He also puts all our ideas into words, which is amazing and something I could never do. We really work together as a perfect team."
–Amy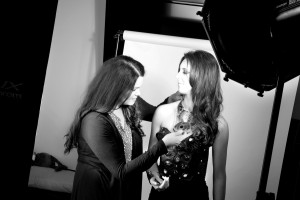 "I never get tired of watching Amy design. It's not that she just sketches or designs—she draws with wire, and I can actually see the ideas coming from her. It's rare and my privilege to work with her."
–Tanner
"The career is a lot about saying yes and then figuring it out later. A fashion show is something I'd been wanting to do for years but was too afraid because there's no book on how to do this. Eventually I was just like, 'life is too short. I'm just going to do it.' Then all of a sudden, we're there at the fashion show costume competition, and our first piece wins, and we're given our own show and it hits you—'Oh my God, I have to make 12 pieces, and how am I going to do this?' And I don't know how it happened, but it did (laughing)."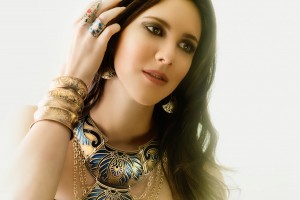 –Amy
"I think art should make you feel something, and that's the biggest compliment we get from our customers. We hear it all the time at the St. Albert Farmers' Market. Someone will buy a ring or a journal and come back years later and say 'This is still my favourite piece of jewellery because I bought it at a key point in my life, and it just spoke to me.' That means so much to us."
–Tanner
"The future? We'd love to have a great big studio some day with all sorts of artists working there with us. A place where we could further cultivate the community and even be apprentices to people who want to learn the things that we've struggled to learn."
–Amy