Sturgeon Valley Athletic Club (SVAC) has been going strong in St. Albert for more than two decades. So much more than your average gym, this full-service fitness facility offers everything from personal training and high-tech assessment tools to group fitness classes and active-play child-care services. Whether you're a cardio queen (or king), a heavy lifter, a devoted yogi or something in between, SVAC has created a community conducive to crushing your fitness goals.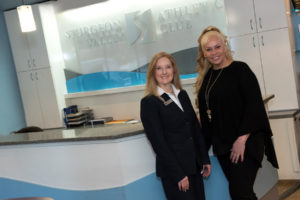 Tamara Klein opened SVAC with her husband in 1996. "We are not from the fitness industry," says Klein.
"We hire experts and listen to them. We wanted to do this because St. Albert is our home, and we wanted to bring something great to the community."
The couple has certainly succeeded. Today, SVAC maintains a strong, long-term membership base, has about 50 employees and offers more than 35 group exercise classes per week. The 22,000-square-foot space contains not only a well-rounded gym and luxe locker rooms but also fitness studios, assessment rooms, a members' lounge, a supervised children's play area, a spacious café and a professional medi-spa. "We are full-service," says Klein.
"You can come here, get in a great workout, then get ready to go to work or meet your girlfriends for coffee."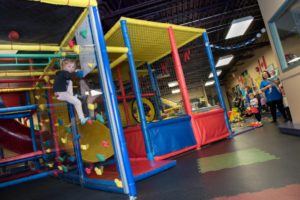 Customer care, convenience and a sense of community seem to be the secrets to SVAC's ongoing success. Ramonde Maxfield, who has been SVAC's club manager for about four years (and a member from the start), says there are many reasons that clients keep coming back. "We make things convenient and easy. Parking is easy, and we have all the amenities, like towel service. Our customer service is platinum-level. It's a friendly atmosphere, and there's a sense of belonging here. We listen to concerns and respond right away."
To Klein and Maxfield, the social side of their members' experience is just as important as the fitness side. Maxfield thinks of SVAC as a family that grows and changes: "The members get to know each other, and the kids get to know each other." Klein couldn't agree more, and added, "Our staff also get to know our customers and their kids. They make a connection."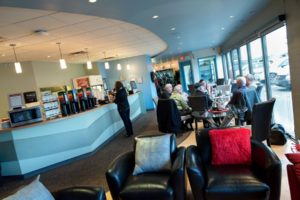 The team at SVAC works hard to create a supportive, unintimidating environment for new members as well—even those new to working out. "Each new member receives an equipment orientation. A trainer will show them how to use the machines, and they get a basic program to follow. We get to know them and recommend services they may be interested in," explains Maxfield. Klein recommends that new members "come in when it's not as busy in the afternoon" until they feel more confident with their routines.
Overall, SVAC is about helping St. Albert residents of all ages and abilities maintain a positive, healthy lifestyle. "I was athletic in high school. I'm trying to find that girl again," says Klein. "When you're working out, you have that strut in your walk. You feel so much better about yourself, like you've got all your ducks in a row." Maxfield adds,
"For me it's empowering. I like feeling strong and capable, and exercise is the best way to do that."
So, if you're looking for a community vibe and a little encouragement alongside your daily burn, check out SVAC.  t8n
Did You Know?
SVAC embraces technology. The facility is home to the Bod Pod—a high-tech, body-fat measuring tool. In fact, SVAC is the only place in Northern Alberta that offers this assessment tool to the general public. People have come from as far as Saskatchewan to use it.
Fun Fact
The kids are just as important as the grown-ups at SVAC. The Kleins actually created SVAC's entire concept around providing a play area for kids. Playcare offers childcare services (and hosts birthday parties) for kids nine and under. Focused on active play, the space includes a climbing wall, slides and tunnels.