Navigating the pros and cons of St. Albert's recent circular traffic flow initiatives
Since Alex Caldararu moved to St. Albert in 2021, he couldn't help noticing some drivers navigated local roundabouts in rather unusual ways. Some ignored yield signs, others cut off cars that had the right of way. However, the strangest manoeuvre he has witnessed so far was at one of the city's newer roundabouts at Everitt Drive North and Ebony Way.
"As I was waiting for my turn to enter, this black pick-up comes barrelling through and actually jumps the curb and goes straight through the middle of the roundabout," he recalled. "I guess you could say this person wasn't a fan of taking roundabout routes to get to where they were going!"

Alex Caldararu
Such an extreme vehicular tactic could have resulted in an accident, an incident that the City of St. Albert hoped to mitigate after introducing roundabouts less than a decade ago. Unlike considerably larger traffic circles that sport two lanes, roundabouts take up less real estate usually with only one lane circling a centre island. Operating without traffic lights, roundabouts aim to slow down traffic, particularly in residential neighbourhoods, while preserving pedestrian safety. Roundabouts are also not a new thing: their history hearkens back to the 1790s in Washington, DC.
Currently, St. Albert has six roundabouts, half of them built within the past five years with two more under construction, although residents haven't unanimously applauded their introduction. Before adding its third roundabout at St. Anne Promenade in 2016, City Council debated its construction. Some naysayers questioned the initiative's layout and unsuccessfully pushed for stop signs as a cheaper alternative.
St. Albert Mayor Cathy Heron said that the recent increase in roundabouts is part of the city's focus to improve traffic flow in neighbourhoods new and old. So far, she's received mixed feedback.
"Most residents appreciate the reduced time in traffic during peak periods as they help traffic move efficiently," she said. "Challenges have been around how roundabouts work or motorist frustration with other drivers who aren't sure how to navigate through the circle."

Cathy Heron
Despite those frustrations, pundits declare roundabouts are safe. Statistics compiled by the U.S Department of Transportation Federal Highway Administration have found that roundabouts can reduce severe crashes at intersections by an average of 80 percent. When approaching a roundabout, drivers need to slow down, while pedestrians can only cross one direction of traffic at a time. Since all cars circle the junction in the same direction, accidents tend to be sideswipes rather than head-on or T-bone collisions, resulting in fewer serious injuries and fatalities.
In St. Albert, pundits view roundabouts as a way to mitigate accidents at intersections, where three out of five collisions took place between 2018 and 2020.
"Of these intersection collisions, 33 percent resulted in injuries."

Dean Schick, the city's transportation manager.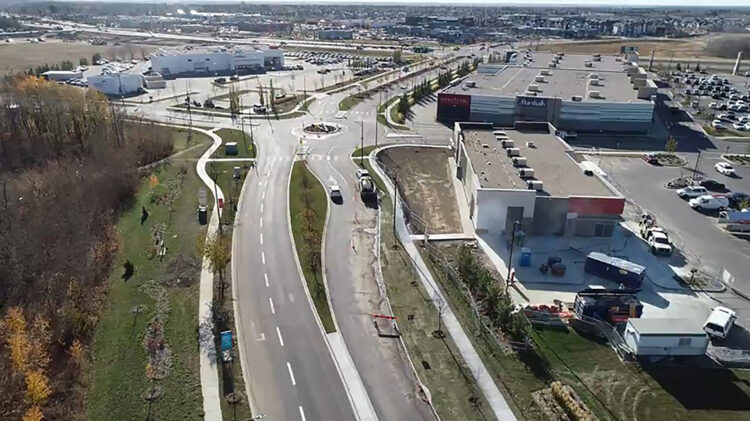 With one of the Villenueve Road projects budgeted at $1 million in April, installing a roundabout isn't cheap. Schick said initial costs depend on such factors as size, design, or whether the intersection is a new development or retrofit project in an already developed area. However, in the long run, roundabouts are a boon to the taxpayer. "Cost effectiveness is recognized with reduced operational and maintenance costs which, over the lifespan of the intersection treatment, can offset the higher upfront cost," said Schick. "The life expectancy of the roundabout is also longer than that of the signal infrastructure."
Schick added that roundabouts help reduce effluence into the environment. "Roundabouts typically consume less power than that required to operate a traffic signal system," he said. That's achieved by cars driving more slowly through the circle, although they don't need to idle extensively while waiting for a light to turn green. Traffic delays and congestion also decreases, since vehicles don't always have to come to a complete stop before entering a roundabout.
Nearby, Edmonton currently has 26 roundabouts with more on the drawing board. "Developers and city planners see the roundabout as a safer alternative to regular signalized intersections when appropriate," says Natalie Lazurko, the city's Director of Transportation Planning and Design, Integrated Infrastructure Services. Some of these future roundabouts will likely replace some of the five remaining traffic circles in Edmonton (which had as many as 12 during the 1950s), with others switching to signalized intersections. Lazurko cited accommodating LRT construction and other major infrastructure projects as the motive.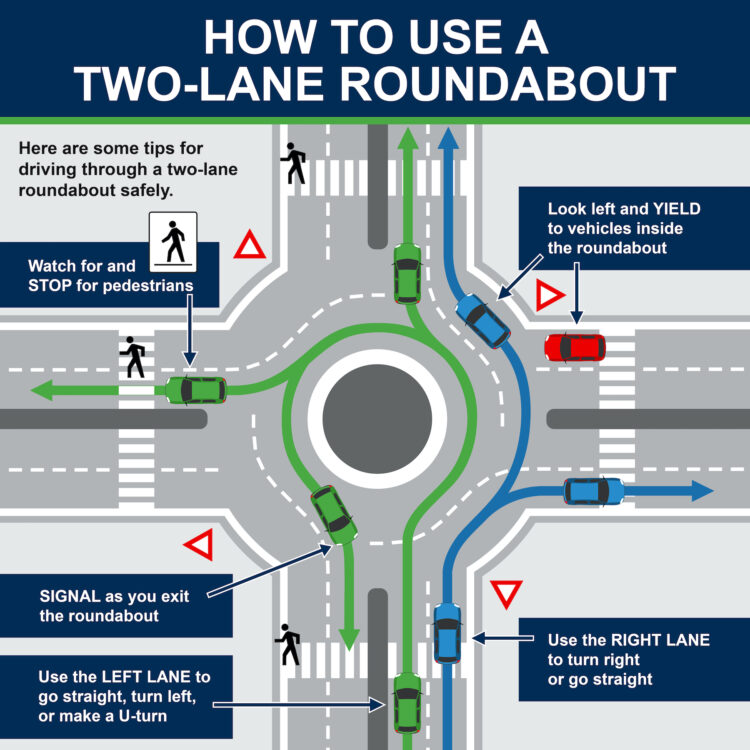 Roundabout locations have long been concerns for critics like Ross Guffei, a retired urban planner who ran for St. Albert City Council in the 2021 civic election. While he believes roundabouts serve a purpose when there is sufficient traffic, he doesn't think the forthcoming roundabout at the intersection of Villeneuve Road and Walmart is an appropriate location, considering traffic issues are more pressing elsewhere on that road.
"Although it's busy at the Walmart commercial area, Costco has more traffic," said Guffei, who would rather see a roundabout on the road near a McDonald's restaurant. "Does that mean, in the future, we're going to need a traffic circle there?"
"Traffic patterns are key," said St. Albert City Councillor Sheila Hughes, adding that according to engineers, roundabouts work best in light to medium traffic, but not heavy traffic situations. Schick admitted that roundabouts are not appropriate at all locations.
Regardless of placement, Schick believes St. Albert residents should prepare for more roundabouts in the future. "As the city continues to grow, it is anticipated that the transportation network will have sites that are appropriate for new roundabout construction," he said, "or there may be sites that will improve upon traffic efficiency and safety from intersection redesign."
Heron emphasized that the success of roundabouts is contingent on achieving a balance between prioritizing traffic safety and efficiency and managing increased traffic. "My hope is that as drivers learn more about roundabouts and experience them more on their daily commute, there will be increased confidence in safety and the driver's own ability to maneuver them."
Despite witnessing the foibles of drivers trying to traverse roundabouts — or simply ignoring the rules of the road altogether — Caldararu, who declares he's firmly on "Team Roundabout," says he loves them for their efficiency, navigational simplicity, and aesthetically pleasing attributes like cobblestone lining, as well as trees and plants in their centres. "I think they'll be great additions to neighbourhoods and that eventually, people will learn how to navigate them," he says. t8n
Current Roundabout Locations:
Everitt Drive North and Ebony Way
St. Anne Street and
St. Anne Promenade
St. Anne Promenade and Tache Street
Jensen Lakes Boulevard
west of St. Albert Trail
Jensen Lakes Boulevard and
Jubilation Drive/Joyal Way
Versailles Avenue and
Villemagne Road
Roundabouts under construction:
Villeneuve Road and
commercial access at Walmart
Villeneuve Road and
Dennison Drive/Jensen Gate
How to Navigate a Roundabout
When approaching the roundabout, choose the correct lane that corresponds to your intended exit.
Slow down as you approach the roundabout and be aware of crossing pedestrians.
Looking left, yield to all traffic inside the circular lane and enter the roundabout when there is a safe gap in traffic, traveling in a counter-clockwise direction (to the right). 
Maintain a safe speed, as indicated by the posted speed limit signs, through the roundabout.
Never change lanes within the roundabout.
Signal for a right turn as you approach the desired exit while maintaining a safe speed and be aware of crossing pedestrians. 
Source: StAlbert.ca