Designers breathe new life into previously worn outfits.
These days, hand-me-downs are enjoying brand-me-up status, adding more mileage to the fabrics, but with new identities all their own. In part, you can credit the environmentally-inspired recycle movement for hinting that even clothing can be repurposed into creative fashion designs. Maybe give kudos to an unpredictable economy for triggering ideas to revitalize outdated outfits or other items that no longer fit the youngsters. Or tip your hat to the notion that some of the stuff folks used to wear
is simply too good to throw out.
Local crafty designers have already been going the upcycle route by taking vintage and other previously-worn wares and with a stitch here and there have come up with new looks for old items. The result is an array of wardrobe pieces from jackets and tote bags reconstructed from vintage quilts to denims paired with upcycled fabric inserts. Round it out with second-hand jewelry and accessories and you're good to go. To further press the point, this photo essay was shot in the art gallery of the Multicultural Heritage Centre in Stony Plain, located in a repurposed institution that was previously the Old Red Brick School House built in 1925. t8n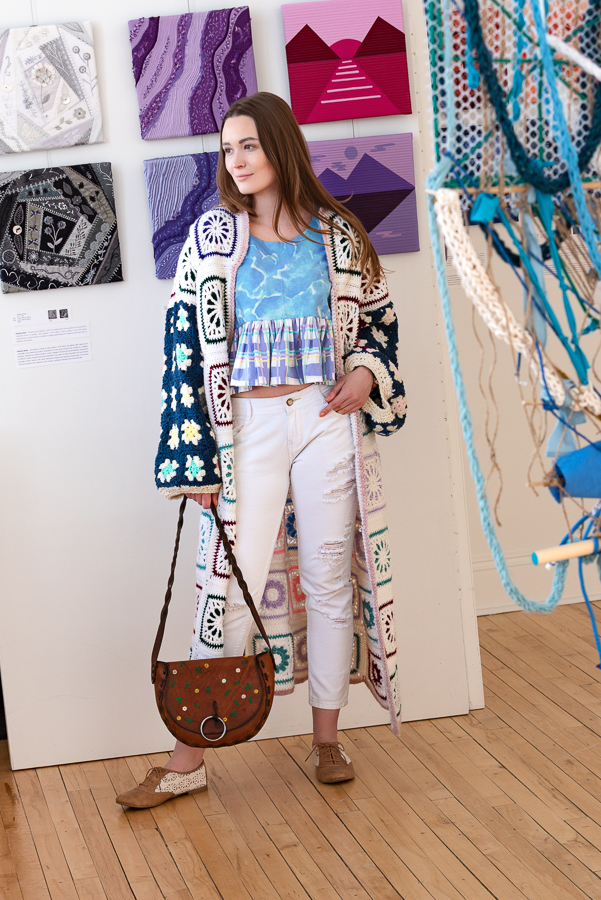 Model: Nikki Bosh
Location: Multicultural Heritage Centre Public Art Gallery, featuring the Fiber Arts Network "Chromatopia" exhibit curated by Alexis Marie Chute
Designer Links