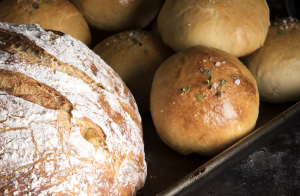 These potato rolls go with everything. But, mostly, they go quickly.
1 1/4 cups 2% milk
2 tsp instant dry yeast
1 large egg
1 cup mashed potatoes, seasoned with salt and pepper
5 tbsp honey
1 1/2 tsp salt
2 1/3 cups all-purpose flour
2 cups bread flour
6 tbsp unsalted butter at room temp
3 scallions, sliced thinly
1 egg
1 tbsp water
Fresh thyme, chopped (to garnish)
Coarse sea salt (to garnish)
INSTRUCTIONS
In the microwave, warm the milk in a large, microwave-safe mixing bowl until the chill is removed and the milk is slightly warmer than body temperature. Stir in the yeast, and let sit for 10 minutes. Next, whisk in the egg, mashed potatoes, honey and salt. Stir in all the flour, and turn the shaggy dough onto a work surface.
Knead the dough for a few minutes, adding the butter 1 tbsp at a time until wet but incorporated. Knead the dough for 5 minutes more, then place back in the bowl and let rest covered with plastic wrap for 2 hours.
Punch down the rested dough on a floured work surface, and then roll out into a rectangle. Sprinkle the surface with scallions, and then roll the dough into a long log. Slice the log into 12 pieces, and gently shape each into a round bun. Space the buns 3 cm apart on a parchment-lined baking sheet. Cover with a towel and let rise 1.5 hours.
Prepare an egg wash by whisking the water and egg in a small bowl. Brush the tops of the risen buns, sprinkle with salt and thyme and bake in a preheated, 400˚F oven for 20 minutes until perfectly glossy and golden brown. Transfer to a cooling rack, then dig in while still warm.