Homemade marshmallows are next-level flavours compared to bagged marshmallows from the store. This recipe takes a little bit more work to make the caramel swirl, but you won't regret it!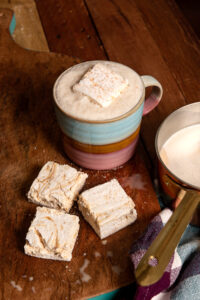 Caramel Swirl
1 c. heavy cream
½ c. brown sugar
½ tsp. vanilla extract or vanilla bean paste
¼–1/

3

tsp. Himalayan pink sea salt
In a medium saucepan, heat the cream and brown sugar until bubbling. Continue to cook until the mixture reaches 200°F on a candy thermometer. Remove from heat and add in the vanilla and pink sea salt. Give it a quick stir and set aside.
Vanilla Marshmallows
Line a nine-inch x 13-inch glass baking dish with tinfoil and then spray with cooking spray. Make sure you leave an overhang with the tinfoil, handy for removing the marshmallow slab from the pan. Dust the bottom of the pan with sifted icing sugar.
3 packages of unflavoured gelatin
1 ½ c. sugar
½ c. corn syrup
½ c. Lyle's golden syrup
½ tsp. kosher salt
1 ½ tbsp. vanilla extract
sifted icing sugar, enough to dust the pan
—

In the bowl of a stand mixer, combine the gelatin with ½ cup of cold water. Use a fork to give it a quick stir let stand.

In a medium saucepan, combine the sugar, syrups, salt and ½ cup of water. Cook this mixture over medium heat until the sugar dissolves. Turn the heat up slightly and continue to cook until a temperature of 240°F is reached on a candy thermometer. Take the pan off the heat.

Turn the stand mixer on low and slowly (and carefully) pour in the hot sugary syrup mixture over the dissolved gelatin. Once everything is added, turn the speed up to high on the stand mixer and let this mix for 12–15 minutes. Add the vanilla and mix until the vanilla is combined.

With a spatula (spray with cooking spray), pour the mixture into the prepared pan and smooth out the top. Drizzle the caramel mixture down the middle of the marshmallow pan and use a skewer to make a swirly pattern throughout. 

Lightly dust the top with the sifted icing sugar and let stand on the counter overnight. The next morning, using the tinfoil overhang, lift the marshmallows out of the pan and place on a large cutting board. Cut into squares and store in an airtight container up to one week.