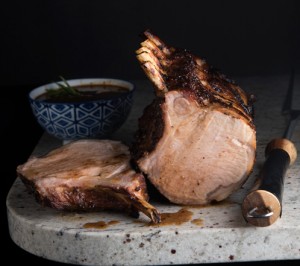 At the risk of inviting error, it's actually hard to mess up this recipe. The marinade does most of the work, and the oven takes care of the rest. All that's left for you is the credit.
Pork rib roast (about 6 chops)
1/2 cup red wine
1/4 cup soy sauce
1/4 Worcestershire sauce
1/3 cup grainy mustard
1/2 cup loosely packed brown sugar
1/4 cup pomegranate molasses
1 tsp sambal oelek
4 garlic cloves, peeled and smashed
3 tbsp, freshly chopped rosemary
Salt and freshly cracked pepper, to taste
Place the wine, soy sauce, Worcestershire, mustard, sugar, pomegranate molasses, sambal oelek, garlic and rosemary in an extra-large re-sealable bag, and give it a swish. Add the roast to the bag, squeeze out the air, seal the bag, and place in the fridge overnight (5 to 17 hours). About 2 hours before you plan to eat dinner, remove the marinating roast from the fridge and let it sit on the counter to remove the chill. After 1 hour, preheat the oven to 400˚F, remove the roast from the marinade to a plate and season it all over with lots of salt and pepper. Heat a little oil in the bottom of an ovenproof pan, sear the roast on all sides then transfer the pan to the preheated oven. Roast for 1 hour, and then check for doneness. Remove from the oven, let rest 15 minutes, then slice into chops and serve.