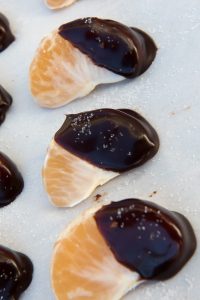 Sometimes, simple is best. And these are little bits of perfection.
3 Mandarin oranges, peeled and separated into segments
1 1/2 tbsp Cointreau
1 1/2 cups semi-sweet chocolate chips
Sea salt, for sprinkling
Line a large plate with waxed paper. Next, use the microwave or a double boiler to gently melt the chocolate chips in a small bowl. Stir in the Cointreau, and mix until smooth.
Dip each orange segment into the melted chocolate, and place them on the prepared plate. Sprinkle with sea salt, and let set.