Warm from the oven and served with spicy honey, this delicious, cheesy bite hits the spot on a winter's night.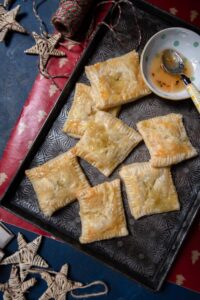 1 package of frozen puff pastry, defrosted in the fridge
1 large egg, beaten (You will need another egg when you are ready to bake.)

 

½ round of brie (cut in to 1½" x 1½" squares, rind on)
spicy honey (store-bought)

 

Line two baking sheets with parchment paper and whisk the egg in a small bowl and set both aside. On a lightly floured surface, roll out the first sheet of puff pastry. Cut into 3½" x 2½" rectangles, as many as will fit. Discard any excess dough. Do the same with the second sheet of puff pastry. Make sure you have an equal amount of pastry rectangles to match up for the brie bites. 

Brush the perimeter of all the bottoms of the pastry bites with egg wash. Place a brie piece in the middle and top with the second pastry rectangle. Pinch the edges together using your finger or a fork and slash the top of the pastry to create a vent while baking. Set on to the prepared sheet. Do the same with the rest of the pastry rectangles. 

Pop the sheet pans into the freezer and freeze for up to two hours. Then pack them into freezer bags for when you are ready to bake.
When ready to bake, preheat oven to 375°F. Put nine frozen brie bites per tray. Brush with egg wash and sprinkle with flaky sea salt or smoky sea salt.
Bake for 18–22 minutes, until they are puffy and golden. Serve warm and enjoy!