A local coffee shop makes a difference with its java and community spirit.
For millions of Canadians, a cup of coffee is a morning ritual. Others not content to brew up a cup at home opt for local coffee shops which attract patrons with the wonderful aroma of contrasting coffee beans being grounded. There's an intimate and welcoming feeling when you walk into such an establishment that truly cares about its customers. At Perks Coffee House, they capture this vibe perfectly.
Operating since 2013 from its first location in Spruce Grove, Perks Coffee House opened its fourth location in St. Albert during the summer. Walking into the narrow cafe with a jagged counter from end to end, patrons get an intimate example of coffee culture with brown and cream-colored walls that resemble their favorite wake-up concoction. And the venue, which can seat at least a dozen folks, offers three flatscreens of what's available, from soup and sandwiches to a wide array of coffees available.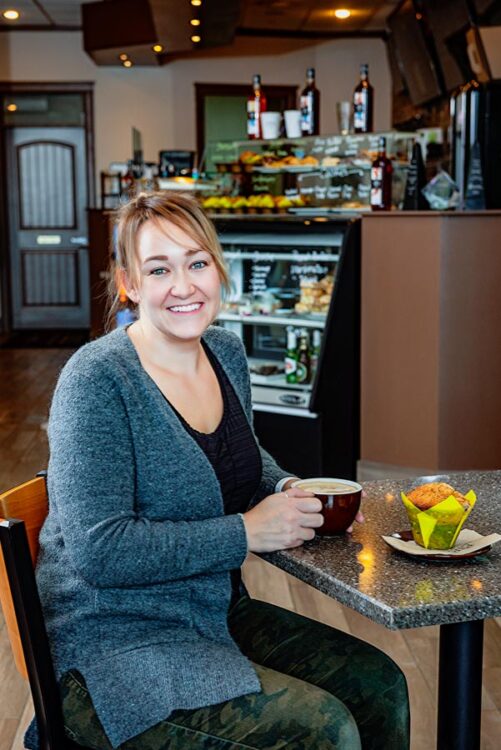 It's no coincidence that every Perks location exudes similar atmospheres. It's one of many perks at Perks, which owner Ken Turlock says was born out of his love for coffee and community.
"Loving coffee myself, I always found that it was inconsistent wherever you went," said Turlock. "We wanted to create something where people come in and always get a great cup of coffee."
With two outlets in Spruce Grove, a drive-through in Stony Plain and the recent St. Albert addition, Turlock and co-owner Shantelle Lewis technically have a chain-like operation going on. But the spirit behind the spots is anything but corporate.
"The idea was for people to invest in a company that invests in the community," says Turlock.
Their coffee beans come from Coffee Concept, a roaster from Calgary that uses traditional cultivation methods in order to provide the freshest and most eco-friendly coffee around. All of Perks' coffee is Rain Forest Alliance Certified, meaning the farmers who create the beans practice sustainable agriculture methods. In addition to the coffee, Perks's tea is all organic and farm fair trade.
Perks would likely earn social brownie points for the organic and fair trade components, but what really makes the operation stand out is the double-decker bus it uses as a food truck for up to 20 events a year. Turlock was long interested in an antiquated vehicle for mobile functions and when he saw the broken-down 1962 Bristol Lodekka public transport vehicle in a Kijiji ad in 2014, he realized it was a sure-fire way to attract attention from the rest of the competing food truck fleet.
"It was something that we thought would be unique to serve coffee out of," he said about the bus, which has helped develop a novel revenue stream for Perks in the food truck circuit. But after Turlock paid $500 for the crimson double-decker, it took a year of renovations and considerable sweat equity to get the vehicle in shape just in time for the Farmers Day Parade in Stony Plain in 2015.
Even with the lockdown surrounding the COVID-19 pandemic, Perks has continued to be so popular due to its online ordering options, supportive customers and the socialization aspects that are inherent in coffee shops. "It's about treating themselves to something special every day," says Turlock. "The customers are what truly makes us unique." t8n
Perks Coffee House ­Locations
9-420 King Street, Spruce Grove
505 Queen Street, Spruce Grove
5002-50 Street, Stony Plain
104-625 St. Albert Trail, St. Albert