The Art of Gelato
DaVinci makes a craft of creating a popular dessert.
Sometimes it takes a fire to launch a cool new chapter in a family's life. Case in point is Yvonne and Johannes Irnich, a couple originally from Germany whose livelihoods were attached to working at a construction company. When a facility they were working on burned down, it seemed their livelihoods also went up in flames.
As fate would have it, the Irnich household were looking for a career change and the incident made that switch more timely. Yvonne had learned how to make gelato as a teen from an Italian gelatiere and was pondering the prospects of going at it full-time.
"He taught me all the secrets and what is needed to make the best tasting gelato with foods that are pure and natural. I absolutely embraced this art of creating endless possibilities of flavors," she said on the company's website.
Irnich lamented that she could not find a gelato here in Canada on the same level as the kind she knew in Europe. With the support of her family, she put together a sales trailer, a small gelato kitchen, and a used batch freezer. From its humble beginnings in 2015 at the St. Albert Farmers' Market, the enterprise—dubbed DaVinci—benefited from word-of-mouth and within a year, enjoyed national distribution.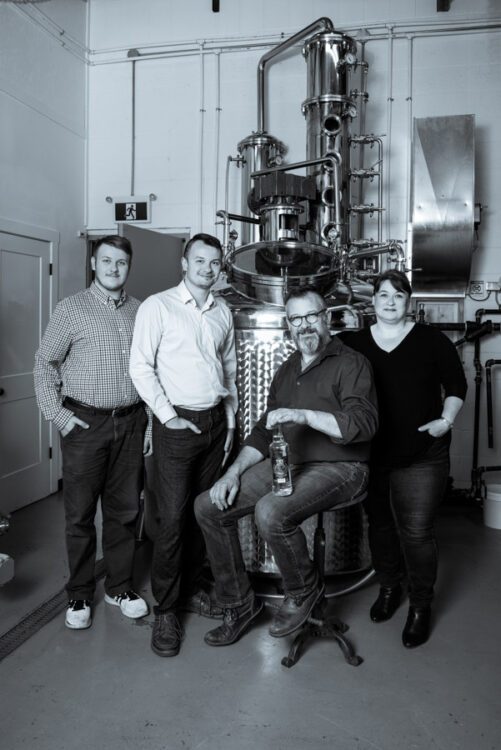 Son Felix Irnich is the chief operating officer who founded DaVinci together with his mother. In doing so, he left behind his university studies at MacEwan University, where he was taking commerce and computer science. Father Johannes was still doing some construction, but joined soon after.
"Our goal for the gelato was to bring quality," says Felix. "We personally felt there was no good gelato in the country when we started DaVinci. We wanted to bring a good gelato like we knew in Germany, at a price people can afford."
The company name was chosen because it represents the style of gelato the family wanted to make.
"Gelato is Italian, so we wanted something Italian. Da Vinci is an artist, representing creativity. And, everyone knows who he is."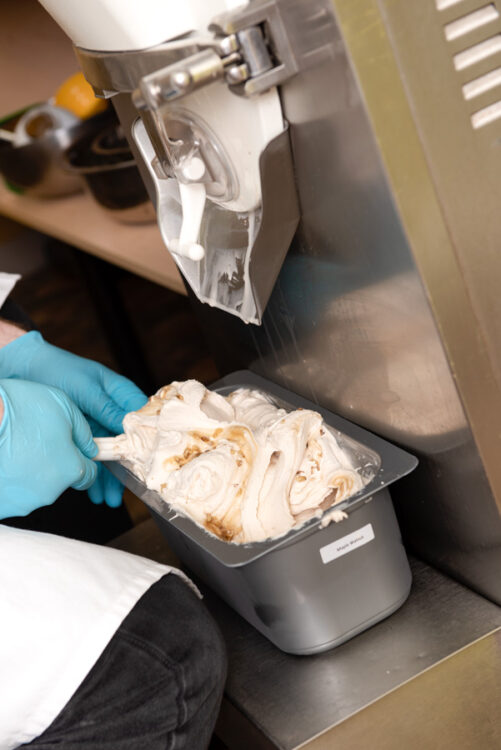 DaVinci's gelato is available as pints in retail locations and served in restaurants across the country, including Famoso Neapolitan Pizzeria and Sorrentino's. The gelato is made completely from scratch, using no artificial flavours, colours, or premixes. All of their gelato is gluten-free with the dairy varieties made from 100 percent Canadian milk and cream. The sorbettos are completely vegan.
DaVinci makes 20 flavours regularly to keep shelves and restaurants stocked. Felix lists DaVinci's most popular flavours as vanilla, Belgian chocolate, and strawberry lemonade. Other bestsellers include pistachio, containing pistachios from the Mediterranean, as well as dairy-free coconut, made with coconut milk instead of cow milk. "And you can't go wrong with some good, old salted caramel," he says.
However, if you're looking for variety, DaVinci has 120 flavours in stock, including ones that are off the beaten track like blueberry-basil, honey-anise and lavender. What set DaVinci products from its competition is its use of natural ingredients, says Felix.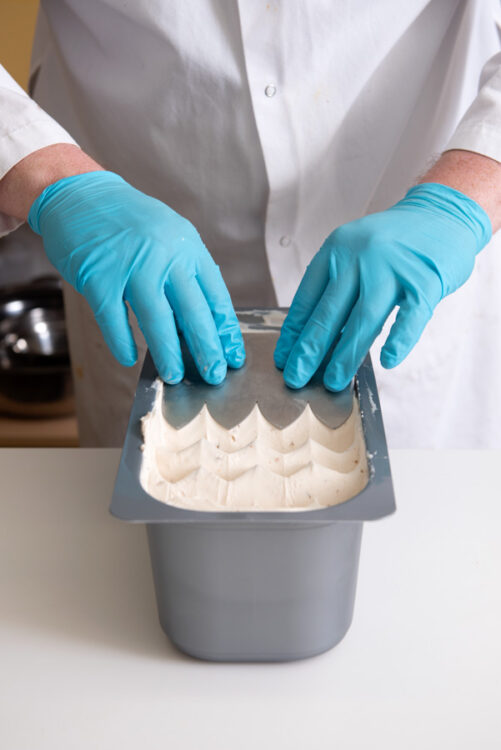 "A lot of the gelato you buy commercially or cheaper use premixes, powders, and artificial flavours," he adds. "When you have our gelato—for example, our strawberry lemonade sorbetto—it's lemons, strawberries, some sugar… there's no stabilizers and it is a more natural product. If you look at the calories, it isn't bad compared to other products. It will have some fibre, which is good for digestion, and it has actual fruit. It's handcrafted, properly made, very smooth and creamy. Some stuff out there can be icy and chunky. Ours is smooth and pleasant."
For adults wanting their gelato with a kick, the company has rolled out a Happy Hour gelato line from red wine gelator to a peach chardonnay sorbetto, each with an alcohol content of five percent. DaVinci sought going the boozy route since the beginning but AGLC regulations didn't cover gelato, prompting the company to change much of its setup.
One major restructuring involved creating T-Rex Distillery in 2019.
"One of the requirements was that we had to make our own spirits," Felix explains. "We couldn't go buy wine and dump it in—we had to make our own."
Owning a distillery provided a huge opportunity for the company when the pandemic hit. After getting a license from Health Canada, T-Rex produced thousands of bottles of alcohol-based hand sanitizer.
But COVID-19 hasn't deterred DaVinci from making gelato from ingredients grown by local farmers and selling to markets in the region. "We still try to make new flavours and we try to find those really good ones to share with people," says Felix. "We want to make gelato that is just really damn tasty." t8n
DaVinci & T-Rex Distillery
2 Rayborn Crescent, St. Albert
587-686-0288
davinci-gelato.com
trexdistillery.ca