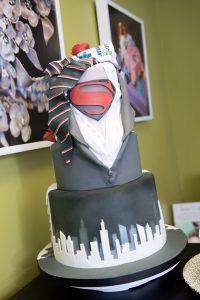 Nestled in a small strip mall in the Grandin neighbourhood is a friendly little bakeshop that is doing big things. Over the Top Cakes goes above and beyond to design custom cakes and create delectable desserts for local customers, brides and grooms, corporate clients—and even celebrities.
Jennifer Gray opened Over the Top Cakes in July 2012. A medical transcriptionist by trade, Gray had no formal training in baking, however, cake decorating was always one of her passions. That passion, paired with hard work and positive thinking, set everything in motion. "Everything just fell into place," says Gray. "There was no business plan, no five-year plan. I just opened the doors and hoped people would come in."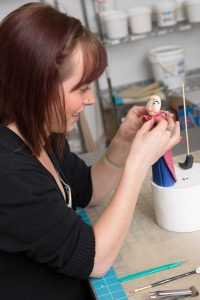 Four years later, Gray's doors are still wide open; she has grown her business from a staff of one pastry chef to five full-time and three part-time employees. "The staff here are super fun. They are invested and care about customers, and they enjoy the work they do here—which makes the product even better."
With the staff constantly coming up with new ideas, creativity is a main ingredient in this bakeshop—especially when it comes to custom orders. According to Gray, a custom cake takes anywhere from hours to days to create, depending on the design. "Clients tell us about the person it's for and their interests. It's about personalizing each cake."
One of the team's most memorable cakes was for Shell Canada. The 2,000-serving cake, which was actually four, seven-tiered cakes designed as dump trucks and a crane, was for a corporate event in Fort McMurray. "We finished at 11 p.m., loaded the cake into cargo vans and drove all night to get there," laughs Gray. "It took five or six of us to set it up. There were so many people coming over [to peek] that they had to put pup tents around everything. People were still putting their phones into the tent to take pictures! We felt like celebrities!"
And Gray is no stranger to the world of celebrity. Over the Top Cakes has become a go-to bakeshop for the stars when they are in town. Gray says they get a celebrity order at least once a month. "We usually don't know until that day and really have to work on the fly," she says. "The first one we did was for Tim McGraw. It was his keyboard player's birthday. The cake we designed was a keyboard with a cowboy hat, edible music sheets and a bandana. After that, the celebrities kept calling."
Over the Top Cakes' celebrity status and custom cakes aren't the only reasons customers love them. According to Gray, cupcakes are their top seller, and French macarons (not to be confused with macaroons) are also very popular. "We do lots of cookies, we do tarts, and we are starting to do loaves. We will be doing more pastries coming up in the New Year—cheesecakes and grab-and-go desserts as well."
As Gray continues to grow and evolve her business, one thing will remain the same. "I always want people to feel comfortable to walk in and chat with us. It's great when people from the neighbourhood walk over… we are really blessed to have support from the local community."
So, whether you need an elaborate, large-scale cake for a big event, a beautifully simple slab cake or a quick dessert, Over the Top Cakes is your sweetest choice.  t8n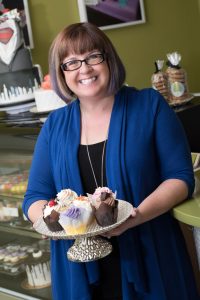 Over the Top Cakes at a Glance
Owner: Jennifer Gray
Location: 2 Sir Winston Churchill Ave
Specialty: Custom cakes
Interesting Fact: Over the Top Cakes will offer cake-decorating classes in the New Year!
Fun Facts
In a typical week, Over the Top Cakes bakes between 40 and 50 cakes and uses at least 25 pounds of butter and 80 kilograms of sugar.
Retail cakes start at $40 and serve six to eight people.
Gluten-free cupcakes are available, but you must order in advance. Macarons are also gluten-free, as they are made with almond flour.