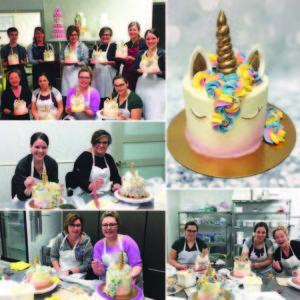 Over the Top Cakes is well known for living up to its motto "If you can dream it, we can make it." Their cake connoisseurs construct breathtaking creations in cake art form—everything from traditionally beautiful custom wedding cakes to imaginative, and even hilarious, custom cakes for birthdays and celebrations. Besides their creative cakes, the bakeshop also offers a very special service that cannot be found anywhere else in St. Albert: Cake-decorating parties and classes for adults, kids and groups.
Winner of the Best of T8N Award for Best Bakery (for sweets, cupcakes, cookies, etc.), Over the Top Cakes on 2 Sir Winston Churchill Avenue is full of one-of-a-kind, delicious baked goods, such as gourmet cupcakes, French macarons, cookies & ready-made cakes. However, instead of just enjoying their baked goods, you could learn the skills to create delicious cake artwork of your own, all while out enjoying an evening or afternoon with friends or family.
The 2100-square-foot bakeshop, where the parties are held, has the space and personnel to host cake-decorating parties in a friendly, well-equipped and relaxed way. All the decorating supplies, tools, aprons, fondant, etc. are provided by the bakeshop, and team members from Over the Top Cakes will lend their cake-decorating expertise, such as tips on fondant sculpting and icing, throughout the party. Cake-decorating parties are infinitely customizable, making them popular choices for birthday parties, bridal showers (decorate your own wedding favours!), classy stagettes and even team-building exercises. The parties are not just limited to decorating cakes, either; cupcakes and cookies & French macarons are also popular choices.
The team at Over the Top Cakes also hosts cake, cupcake and cookie decorating parties for children as young as five years old. Children will decorate cupcakes with buttercream icing and make toppers such as animals, butterflies and fondant characters, all the while snacking on treats from the bakeshop. At the end of the party, everyone takes home their decorated work.  The parties usually range between two and two-and-a-half hours and include free coffee for the parents.
Besides cake-decorating parties, Over the Top Cakes also offers lessons for complete beginners to advanced learners (ages six and up) to study state-of-the-art decorating techniques.
"My daughter did the Christmas cookie decorating class & loved it. She was very proud of the cookies she was able to decorate,"
commented one client on the Over the Top Cakes Facebook page. With engaging projects such as shimmering mermaid tails with rosette icing & fondant seaweed, unicorn cakes (complete with a spiraled, edible gold horn) and French macarons, the teachers at Over the Top Cakes provide step-by-step instructions to remove the intimidation some students might have with starting a new endeavor. One of the instructors' goals is to have their students leave with a feeling of accomplishment, and for students to be able to walk away with the skills necessary to complete a decorating project independently on their own.
Learn from the Best!
Over the Top Cakes was opened in July of 2012. The owner, Jennifer Gray, employs a team that includes Red Seal pastry chefs and professional decorators. The bakeshop is known for its custom cake designs; however, their bakeshop also provides a wide range of different cake & dessert options that will work with a variety of budgets.