Drives of Destiny
How the streets of northwest St. Albert got their names
Unlike the Alberta capital that opts for the grid system of numbered streets and avenues, St. Albert individualizes each street with proper nouns of historical people who had a profound impact on this city. In particular, St. Albert's northwest quadrant maintains that system by choosing vanguards from original settlers to prominent members of the clergy who worked in this region.
Deane Crescent
Government surveyor, M. Deane (his first name conspicuously absent from records) arrived in St. Albert in 1882 and completed his official river lot survey of the area in 1883. Deane's work solidified lot sizes and borders, a boon to the establishment of independent farms.
Desmarais Crescent
Six years after Quebec-born Father Alphonse Desmarais entered the Oblate order in 1878, he was sent to northern missions where he founded and developed many western missions in Alberta. He was known as "the Missionary Giant" and passed away in 1940.
Dion Place
Métis settler Antoine Dion helped build the first chapel in St. Albert. He arrived in St. Albert with Father Lacombe in 1861 and is documented in early church records until 1900 as a farmer residing just east of St. Albert.
Dover Court
Mary Cross Dover was one of the ­founders of the Calgary Stampede. She was also a rancher and a business woman who joined the Canadian Women's Army Corps, which led her to the United Kingdom in 1942. In 1943 she was promoted to Lieutenant Colonel and given command of Canada's largest C.W.A.C. centre in Kitchener, Ontario.
Juneau Way
Two brothers, Edmond and Frank Juneau, both started farms in St. Albert in 1878. Edmond married and had 14 children, one of whom was named after his wife, Marie, recognized as the oldest living resident in St. Albert back in 1985.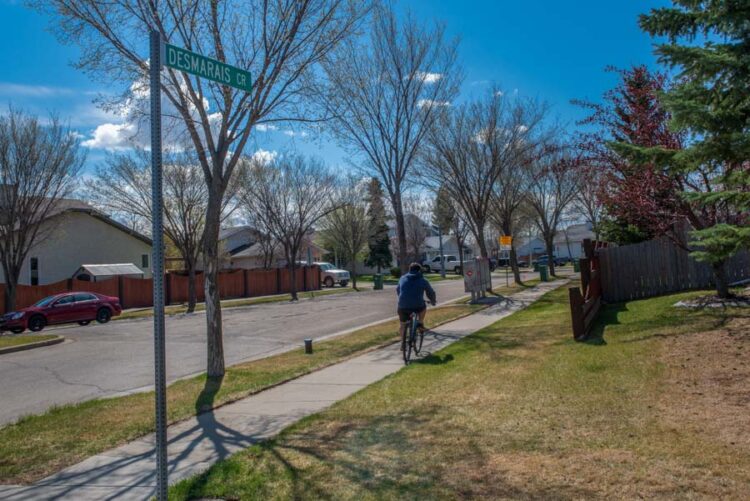 Labelle Crescent
The Labelle family arrived in St. Albert in 1916. Aldoma Labelle, who was also a member of the Town Council, opened up a butcher shop in 1922 and continued to run the store for the next 30 years.
Lachance Drive
Details are fuzzy about this street, but it was possibly named after Forunat and Amanda Lachance who, along with their nine children, arrived in St. Albert in 1943. They had seven more children after buying land near Guy, Alberta and many of their 36 grandchildren are still settled in the Edmonton and St. Albert areas.
Lafranchise Court
Joseph Lafranchise was an early ­Albertan newspaper publisher and printer. He and his wife Rosanna moved to St. Albert in 1912 and started the bilingual paper the St. Albert Star. The family also operated the St. Albert Post Office from 1915 to 1945.
Lucien Drive
Lucien Boudreau co-owned the Astoria Hotel. His stature of only five feet tall and his political accomplishments probably earned him the nickname the Little Napoleon of St. Albert, who won seats in the 1909, 1913 and 1917 Legislative Assembly.
Madonna Drive
This road was known as St. Hippolyte Street until 1957 when then City overhauled the street names to have each moniker in the district start with the same initial letter. The Oblates of Mary Immaculate were heavily involved in the early development of St. Albert and the name Madonna Drive is in homage to that history.
Marchand Place
Father Felix Marchand was born in France in 1859 and was ordained an Oblate priest in 1883 by Vital Grandin, Bishop of St. Albert. He served the Métis and Indigenous people until his murder in 1885 by Big Bear and his band during the Riel Rebellion in what would become known as the Frog Lake Massacre.
Natalia Way
This street name was inspired by festive spirit. Natalia is Latin for "Christmas Child."