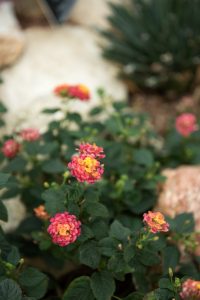 Even the hardiest of prairie dwellers occasionally needs a break from the winter. Thanks to a 40-year-old neighbour in the heart of Edmonton, that escape doesn't have to mean an expensive vacation. No, if you're looking for a warm and colourful break from the bleak, just visit the Muttart Conservatory. Designed by famed architect Peter Hemingway, this iconic landmark just celebrated its 40th anniversary.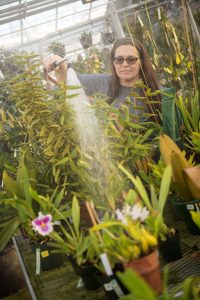 You could take in a special show, go on a guided tour or just sit in one of the display pyramids reading your favourite newspaper. If you're in the mood to learn, you could take in a terrarium-making class or join a meditation group. There are even programs for your kids. So whether you're a frequent visitor or haven't been in years, escape to the Muttart Conservatory this season. It's sure to brighten your winter. Take a look.
Before you enter the first pyramid, look up at the peak of the small pyramid in the main atrium at the large glass installation, called Biota, created by local artist Keith Walker. Next, walk up the ramp to the feature-display pyramid that holds 7 to 9 shows per year. This ever-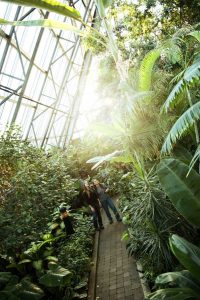 changing display gives staff a chance to show off new plants and their skills, too. It also regularly offers visitors something new to enjoy. This season's Christmas show runs until January 8 and showcases a model train and giant nutcrackers that sit among vibrantly coloured poinsettias, trees and plants. After January 8, staff will prepare the pyramid for February's show, which celebrates Chinese New Year 2017, the year of the Rooster. The show begins January 14, with special programming and fireworks on February 4. In the spring, watch for the annual bulb show, The Sweet Smell of Spring.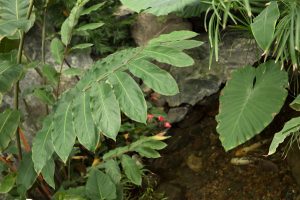 The three, permanent-display pyramids showcase plants from three distinct biomes: tropical, arid and temperate. Each pyramid is maintained, primarily, by one person.
The tropical pyramid is kept at a balmy 24°C year-round and holds plants such as orchids and bananas, which are found in climates similar to the west coast of British Columbia. Look for dramatic seasonal changes in this display, which is climate controlled to allow for a winter dormant period before bursting into spring bloom.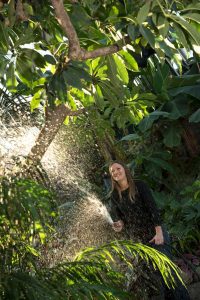 The arid pyramid houses plants found in dry and hot climates, including many species of cacti and poinsettias, which are native to Mexico. Visit in the spring to see the cacti in bloom. While enjoying the plants and water features, look for work from local and visiting artists interspersed among the plants.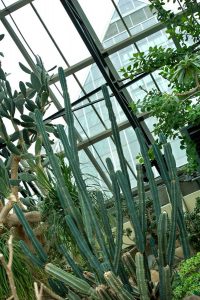 In the temperate pyramid, you'll discover a landscape inspired by boreal and deciduous forests, grasslands and Mediterranean scrub.
Off the atrium, a tunnel leads to the city-run greenhouses, maintained by four staff members. Tucked away at the end of one of the greenhouses is the volunteer-run Orchid Species Preservation Foundation—featuring one of the largest collections in North America!
Once you've enjoyed the respite only a beautiful garden can bring, stop by Culina's for a coffee and snack. Then visit the gift shop, to take a little piece of your visit home with you.
So when you're ready to take a short break from the chilly nights and snowy days, don't buy a plane ticket. Instead, come to the Muttart, breathe in the smells and feast on the colours of Edmonton's winter haven.  t8n