Monjeloco at a Glance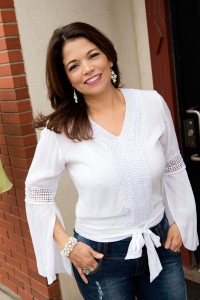 Owned by: Nora Furber
Location: #103, 20 Perron Street, St. Albert
Their specialty: Latin-inspired, derrière-enhancing jeans and accessory clothing
Their mission: For all woman, regardless of shape, size or age, to feel great about how they look in a pair of jeans (especially from the back)
Find their product at: Monjeloco Jeans on
Perron Street or online at
www.monjelocojeans.com
Interesting facts: Nora appeared on CBCs Dragons' Den in 2013 with a follow-up 'dragon' visit to her den in 2014. That visit prompted the City of St. Albert to declare July 13th Monjeloco Jeans Day, an annual Latin Fiesta that raises money for a Columbian orphanage.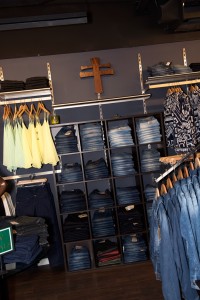 For Nora Furber, it's all about bottom lines—yours. While a discussion of one's backside may leave some people red-faced, in three short years, the Columbian-born entrepreneur has turned her small St. Albert boutique into a destination store. Her signature product, levanta cola, a.k.a. "lift-the-bum" and tuck-the-tummy jeans, has not only been embraced by women across Canada and abroad but has also created a loyal following of jean addicts looking to lift their butts and spirits. From national television appearances and awards to hosting festivals and supporting charities, Furber has the entire community of St. Albert 'behind' her.
"When I opened the store in 2012, I started with something like 600 jeans. Now every three weeks I bring in 1,500 pairs," Furber exclaims. That makes for a good-looking bottom line. "We have already exceeded our expectations with sales. From the year I opened in 2012 to the value I closed the year [annual sales] in 2014, my sales have grown eight times. My website sales also grew by about the same amount," she says.
But exactly how does a young mother of two boys, who came to Canada in the dead of winter when she was only eighteen to work as a nanny, become a successful jeans-store owner? She worked her butt off. Prior to opening Monjeloco Jeans, Furber studied English at the University of Alberta and worked at both London Drugs and Hudson's Bay as a cosmetician. "My husband died of [lung] cancer very young. He was born in St. Albert and was heavily involved in the community. When I found myself alone, I needed to do something else," she recalls. "I was thinking about this idea for about five years, and every time someone gave me an opinion, I would get scared. This is the money my husband left me. This is the money that belongs to my children. It was scary and I knew it would take a lot of work," Furber says.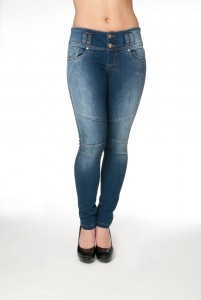 When Canada and Columbia signed a free-trade agreement in 2008, Furber knew it was time to take action. "I wanted to bring the Latin look and colourful culture here [Canada]. It's all about the curves and bum," she smiles. Furber aligned herself with a factory in Medellín, the fashion capital of Columbia, where all the workers are single moms and paid fair salaries with access to healthcare, which is rare. "People in St. Albert are getting the latest fashions before anyone else—they are straight from the runway. I work with young designers to customize Monjeloco jeans for the Canadian woman," Furber says proudly. "I've never done anything more fun, rewarding and exciting."
Showing no signs of slowing down, Furber has been approached to do television sales and film a documentary. She has also received various offers to invest in her business and holds an open invitation to return to CBCs Dragons' Den. Due to her lucrative online sales, Canada Post, Den sponsor for 2015, chose Furber to star in a commercial that will hit the air once a week for a year. "I felt like I won the lottery," she exclaims. "And I didn't do it alone. St. Albert is a great place to open a business because the community will support you." t8n
"This is the money my husband left me. This is the money that belongs to my children. It was scary, and I knew it would take a lot of work."
–Nora Furber
Fun Fact Monjeloco means "crazy monk." Furber's sons came up with the name following Nora's brief stint as a self-admittedly hyper yoga teacher.