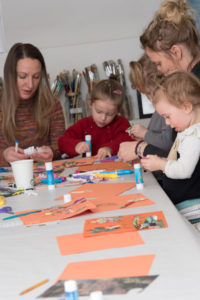 As lives change, so do friendships—and having a child is the mother of all life changes. Before kids, friendly banter consisted of who's binge-watching what on Netflix or what to do when your co-worker steals your lunch from the office fridge. After kids, topics such as nipple confusion, controlled crying and pumping-and-dumping take over. The problem is, if your child-free friends still think a blowout is something you get at a salon, you may find yourselves growing apart. Fortunately, you are not alone. Many new moms face this phenomenon, and there is support in St. Albert, by the name of Modern Mama.
Modern Mama, which launched in 2008 in Edmonton, is a network for moms who have kids that are five years old and younger. With a mission to "get moms out of the house," this successful business started by organizing local meet-ups for new moms.
Since then, Modern Mama has grown exponentially—it's added more locations, developed a strong social-media presence, created a blog full of valuable information for new moms and partnered with local businesses to offer discounts and product giveaways.
"We are an online and in-person resource for moms in our community," says Leah Doyle, Modern Mama's Area Director for St. Albert and North Edmonton. "I organize an event each month, I post on the blog and on social media and I love working with small businesses in the community."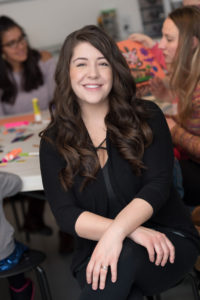 Doyle has been with Modern Mama for a little over a year. "I had just had my second child, and I was looking for reviews of an indoor playground. I found Modern Mama online and reached out. I started in Sherwood Park but took over St. Albert and north Edmonton after a few months."
Since joining Modern Mama, Doyle has hosted all kinds of events.
"Every spring, Spruce Grove, Edmonton and St. Albert come together to host the Bump Brunch, which is for expectant moms. In the fall we host the Hottest Tot Products event … I've organized monthly mixers at the St. Albert Art Gallery and Dynamyx Gymnastics. We've done a baby barre class at Sculpt Barre and a swim class at Paul Sadler Swimland … we've also done workshops, like for CPR."
Doyle says attending Modern Mama events is a great way to meet other moms in person, but moms can also connect and learn online. "On the blog, I post a lot of local reviews and offer tips, like what to feed a picky eater—parenting-type stuff. Our group is active on Instagram and Facebook, too. I try to post something there every day."
As if forging friendships at monthly meet-ups and on social networks isn't enough, Doyle says Modern Mama members also get discounts from local businesses and are privy to product giveaways.
"We do a lot of giveaways, at least one a month sometimes more. We recently gave away Pura Botanicals perfume, also things like tickets to family shows at the Arden Theatre. The local businesses we partner with also offer discounts to our members."
Doyle encourages any new mom in St. Albert looking for local connections to reach out to her. "We have an open atmosphere—not intimidating. Quite often our members become friends. It's great to see."
With a network of moms who can relate to sleep training, soothers and sleepless nights, Modern Mama gives St. Albert's mamas a perfect reason to "get out of the house." t8n
Location: Online at www.modernmama.com/stalbert and at events throughout St. Albert and north Edmonton
St. Albert & North Edmonton Area
Director/Licensee: Leah Doyle
Specialties: Connecting local moms and ­sharing information about motherhood.
Interesting Fact: March marks Modern Mama's 10th anniversary! The business will celebrate with local and national giveaways for members.
Fun Fact
Modern Mama has four locations in Alberta, including St. Albert/North Edmonton, Edmonton, Spruce Grove/Stony Plain and Calgary, as well as locations in BC, Manitoba and Ontario.