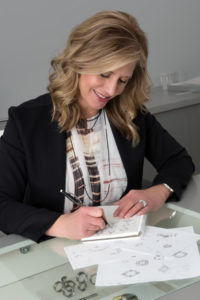 There's much more to jewellery than simple decoration. For the wearer, the power of jewellery lies in its ability to express emotions and tell personal stories. The combination of gemstones, settings and precious metals make each piece of jewellery unique, creating an object of beauty that the wearer can attach meaning and narrative to. It's this expressiveness that jeweller Carmen Bokenfohr strives for in her custom designs. Bokenfohr's interest in jewellery began as a child in Mayerthorpe, where she'd break open rocks to look at the insides.
"I thought I'd find diamonds some day," she remembers with a laugh. "And gold!"
Later, Bokenfohr's search for glittery things led her to the jewellery industry. Though she originally aspired to be a gemologist, her artistic background and people skills steered her toward design and, eventually, to opening Concept Jewelry Design in St. Albert in 2006. Here's a glimpse at her journey. Take a look.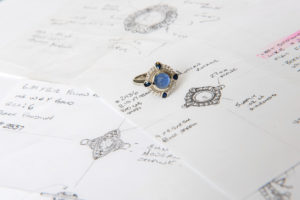 Much of Bokenfohr's work begins with stones. It's the gemstone that she falls in love with—its shape and colour giving her ideas she can visualize long before they become actual jewellery.
"I'm able to express my emotions or what I see in that gemstone," says Bokenfohr of the art of designing and making jewellery. "I find that one gem that I probably will never see again and then come up with something really interesting for it."
Since her clients sometimes lack that artistic vision, a big part of her job is to paint a picture for them to help them see what is possible. That's important, Bokenfohr says, because jewellery is quite often closely tied to life's celebrations and emotions. Just as experiences are deeply personal, so too should jewellery be meaningful to the wearer. It's this uniqueness, as much as a dollar value, that makes each piece of jewellery special.
The range of Bokenfohr's work can be seen in the collections she's created, which speak to her interests and artistry. Her Juicy Gems collection, for one, was inspired by her long-time love of coloured gemstones. The collections also serve the more pragmatic purpose of displaying setting styles and gemstone colours and shapes.
"Sometimes people come in with no ideas at all," she explains. "But if you can give me an idea of your style and taste, I can help mould something around that."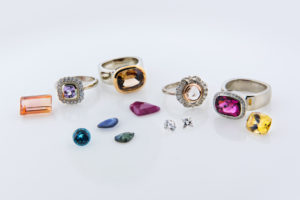 Another consideration is lifestyle. A person may come in with a definite idea for a design, but it may not be entirely practical, given their day-to-day activities. As Bokenfohr puts it, "jewellery is wearable art, but it's got to be functional as well." In these cases, she'll suggest setting stones lower or flusher in a ring to protect them, especially if they're gems. Another option is to place stones in a pendant instead of a ring, where it will face more wear and tear.
"I give the knowledge and the information," Bokenfohr says of the consultation process. "The client ends up selling themselves because they're confident in the direction of the design."
Throughout her 30-plus years in the industry, Bokenfohr has seen a few trends change. More women are buying jewellery for themselves, rather than waiting to receive it, and the styles they're choosing are different, too. Instead of leaning towards the delicate, more "feminine" stones and bands they are often gifted, women will often choose designs that are more substantial and "powerful." It's an aspect of jewellery that Bokenfohr finds empowering for women, and she welcomes the change.
"It's definitely more work, working with women, because we're so particular," she says. "But at the end of the day, it's gratifying because they're extremely confident with their purchase."
For Bokenfohr, what will probably never change is the beauty of the stones she works with. Trends and tastes may come and go, but there is something timeless about gemstones, which continue to inspire her and her designs. "It's totally in the moment—I buy a gemstone because I love it, not because I have a piece of jewellery in mind," she explains. "If I love it, I think somebody else is going to love it as well." t8n