The Zen of Ceranics
How Kentia Naud rediscovered herself through pottery
Having an artistic side hustle while being a busy physician and mother is not something many people would choose, let alone manage. However, for Kentia Naud, her hobby is her respite.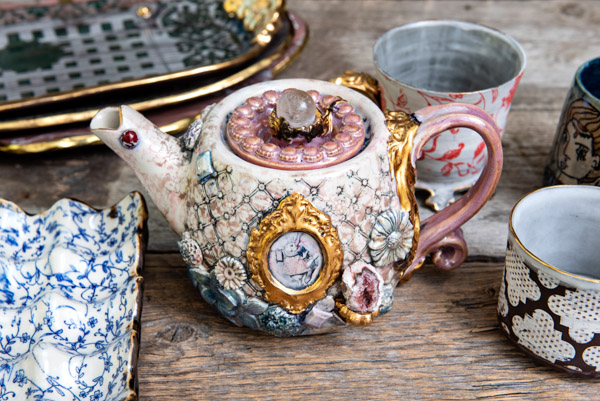 Naud discovered her flair for pottery in the fall of 2013, after she finished her fellowship in maternal fetal medicine in Halifax. Curious about pottery, she requested some private evening lessons which fit into her busy schedule.
"I got fascinated by the possibilities, by the functionality, and the skills required," she said. "It seemed like the world of ceramics was one full of openings, full of dead ends, yet a parallel universe I was ready to fall in to get lost for a time. It was a challenge the Type-A person in me was ready to tackle."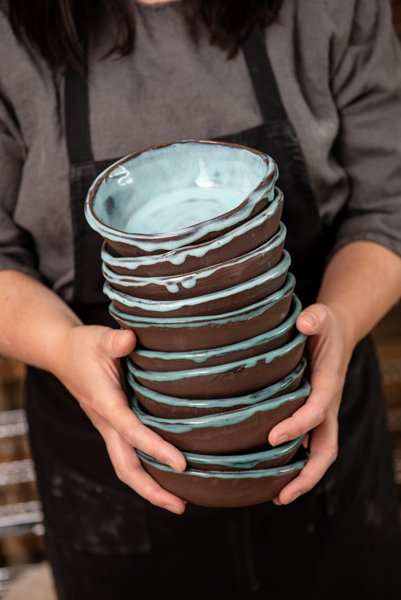 The following year, Naud moved to St. Albert with her family after she and her husband found jobs in Edmonton. She was working as an obstetrician-gynecologist specializing in fetal ultrasound and counselling at the Royal Alexandra Hospital. As she was no longer performing surgeries or delivering babies, Naud missed doing something with her hands. She also missed the pottery experience back in Halifax but her working hours wouldn't jibe with any pottery studio hours. That's when she bought a pottery wheel, installed a kiln in her garage and went at it on her own.
Naud became so prolific she wound up with too many wares to keep or even give away, so she started selling them online and at local craft fairs and markets. She also started social media accounts to document her pursuits, which she found was therapeutic. "The time spent at the pottery wheel in the middle of the night was a time when the chatter of my mind was silenced." she said. "The big life questions came and for the first time in decades, I was not rushing doing a million things, and I had space to hear them out."
In fact, Naud decided to quit her medical career for a while to explore her own psyche and creativity, as well as spend more time with her family.
"This time of uncertainty provided deep insights on art, on the purpose of artists, the value of work, the constructs of society, capitalism, and creativity," she says.
Through her Terre Firme Pottery company and website, Naud makes everything from travel mugs to bowls and sells much of her work internationally to private collectors. She'll also release new pieces several times a year with opportunities for her clientele to order in advance. But since Naud's a one-person operation, she's not able to make custom orders. But she loves to dabble in themes that grab her attention.
"My current line of work in ceramics is at the extremes of the shabby-chic concept. I love mixing rusticity with precious metals like gold and real gemstones. I love mixing simplicity with over-the-top complex details, both sculpturally and visually."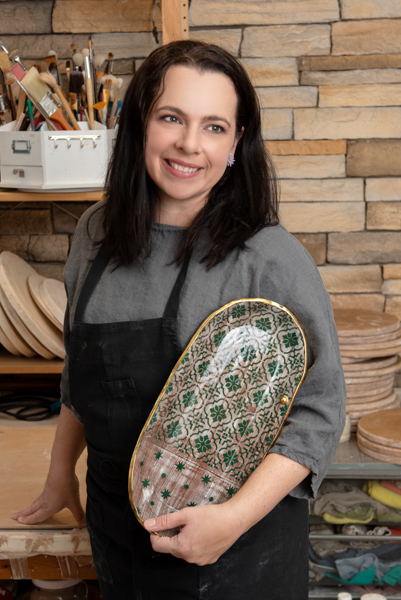 Naud is still a multitasker, but has streamlined her work and her life to the point where she eventually went back to work part-time as a physician, and part-time as an artist, and to be available to herself and her family. As she says, she is "juggling all of the balls, but knowing I won't drop my 'own ball' anymore." t8n
Terre Ferme Pottery
Website: terrefermepottery.com
Social Media:
instagram.com/terrefermepottery/
Reviews: