Whether you grow them yourself or buy them at the farmers' market, herbs are your ticket to big flavour. To help you navigate the pickings, we're profiling some favourites of our own. From classic pairings to total game changers, these eight herbs are sure to lead you down the garden path.
Sage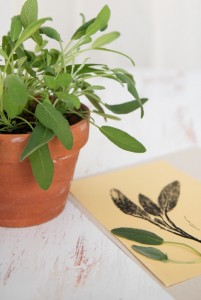 Classic uses: Add sage to pastry dough, bread stuffing or to the cavity of a roast chicken before it goes in the oven. It's also a favourite for brown butter tossed over pumpkin ravioli.
Game changer: Honey infused with sage. Add a sprig of sage to the bottom of a mason jar, and fill with honey. Cover, and let infuse for 5 days.
Quick tip: Add sage to flower arrangements for instant texture and irresistible scent.
Rosemary
Classic uses: Rosemary and lemon zest are classic additions to buttermilk scones. Add chopped sprigs to long-simmering tomato sauces, roasted potatoes and any marinade for pork.
Game changer: Rosemary-lemon salt on french-fries. Simply bruise some lemon zest and finely chopped rosemary in a bowl with some sea salt. Sprinkle over hot fries.
Quick tip: Add a sprig to a cup of steeping tea. Remove the sprig before drinking.
Sweet Basil
Classic uses: It's hard to beat a tomato and basil salad, especially when both are in season. Basil's also a classic in pizza sauce or as a fresh topping and basically a best friend to tomatoes.
Game changer: Add a torn leaf or two to your gin and tonic or to fresh lemonade.
Quick tip: Add basil at the last minute to keep its flavours and aroma bright.
Mint
Classic uses: It's hard to think of summer without mint—juleps, that is. But mint's not only for cocktails. It's a classic in yogourt dips with curry and lime and in sauces and marinades for lamb.
Game changer: Add chopped mint to your brownie batter (3/4 cup, finely chopped).
Quick tip: Mint and feta are a great combination. Try them in a salad with cucumbers and vinaigrette.
Parsley
Classic uses: Parsley is terrific in herbed butter melted over potatoes or grilled vegetables. It's also the base for many salsa verdes and a key ingredient in beurre blanc.
Game changers: Pistachio parsley pesto. Great as a pizza sauce, and simple to make. Just substitute pistachios and parsley for pine nuts and basil in any pesto recipe.
Quick tip: Use flat-leafed parsley whole in salads rather than chopping it into the dressing.
Dill
Classic uses: Dill is a favourite addition to potato salads, aioli and grilled salmon. It's also an essential for pickle recipes and vegetable dips.
Game changer: Baby potatoes with dill cream sauce. Boiled baby potatoes are divine on their own, but add dill and sautéed onions with thick cream, and you're looking at a new favourite.
Quick tip: Add it to tzatziki, and use as a tartar sauce.
Thyme
Classic uses: French onion soup is nothing without thyme. It's also a favourite infused in oil with garlic cloves and oregano, or added to quiche or strawberry tarts.
Game changer: Zucchini bread with thyme. Two tbsp make all the difference. Add nuts and lemon zest for even more flavour.
Quick tip: Substitute fresh thyme for dried at a ratio of 3:1.
Cilantro
Classic uses: Cilantro is a staple in fresh salsas and as a topping for burritos, tacos and lettuce wraps. It's also great in salsa verde or tossed into quinoa or black-bean salads.
Game changer: Cilantro lime rice. Simply toss cooked rice with 2 tbsp of lime juice, 1/2 cup chopped cilantro and a sprinkling of salt.
Quick tip: Use the stems in marinades for chicken and pork. t8n