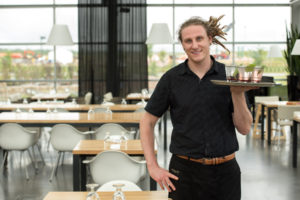 As soon as you feast your eyes on Glasshouse Bistro & Café, you know you are someplace special. From its towering windows and impressive glass ceiling to its indoor greenery and expansive views of Lois Hole Centennial Provincial Park, this restaurant's greenhouse setting is nothing short of amazing. Add friendly staff and fabulously flavourful fare, and you have the makings of one of St. Albert's finest restaurants.
Located upstairs at the Enjoy Centre (and owned by the Hole family), Glasshouse Bistro is a 100-seat restaurant with a café attached. Executive Chef Shaun McCabe calls the restaurant's concept "fresh," "local" and "thoughtful."
"If it's in season, we use it. The Holes grow a ton of stuff for us on their acreage, and we grow herbs and vegetables right here in our greenhouse. As for protein, if we can source it locally, we will. We also use a local seafood supplier who can even name the boat the fish was caught by."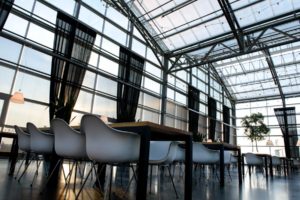 McCabe, who previously worked at Privada, has been with Glasshouse Bistro since March and is busy adding his own inspiration to the menu.
"I'm inspired by the ingredients I have in front of me—what's in season. I talk with suppliers because they see what products are out there; they see the trends starting to form. I also look to fine dining to find out where food 'is' and temper that with where Alberta is."
For the fall season, McCabe is excited to bring some bolder, warmer flavours to his menu. "We'll have some braised dishes, some stewed stuff and still lots of vegetables," he says. "And we have a bread program, too. We are making our own bread—it's a naturally leavened sourdough, but by no means will it taste sour. It's a 24-hour process to make it from start to finish."
And sourdough certainly isn't the only thing McCabe and his eight kitchen staff make from scratch. From grinding their own meat and curing their own bacon to making everything from clamato juice and pickles to ricotta, the team makes sure that most of the restaurant's ingredients are handmade.
"We make everything here. It allows us to be creative. There is clearly a difference between something made by us and something made in a factory, so we take that extra step. This is our passion."
Making that extra effort seems to have paid off for McCabe and his team because some of their customers are as dedicated as the staff. "Lunch and Sunday brunch are our busiest times," says McCabe. "It's nice to see the regulars coming here. When I can sit in our dining room and see people having a good time, trying new things, I'm doing my job."
As busy as lunch and brunch are at Glasshouse Bistro, McCabe is hoping to see things take off during the dinner hour. "Many people don't know we're open at nighttime, but that's when the fun dishes come out. The dining room is beautiful. There are a lot of crazy-good restaurants to choose from in St. Albert, but I don't think there's one quite like ours."
And there may not be many chefs who "get it" like McCabe does, either. "I like when customers tell me what they want to see on the menu. It's not about me; it's about them. I will see how I can offer what they want—and maybe even do something unexpected with it that they didn't even know they wanted."
With its beautiful, open dining room, talented staff and delicious in-season dishes with a creative flair, a visit to the Glasshouse Bistro is always an experience to be savoured. t8n
Glasshouse Bistro at a Glance
Executive Chef: Shaun McCabe
Location: 101 Riel Drive (the Enjoy Centre)
Specialty: Familiar favourites with a fresh, local and thoughtful twist
Interesting Fact: The menu highlights the season's best veggies, so many of the dishes can be converted to vegetarian options.
Fun Fact
McCabe says the most interesting dish he's ever served at Glasshouse Bistro was a lingcod dish with a pickle puree, which was inspired by dill pickle soup previously on the menu.
"I like to use a lot of technique without having it show through. The best thing is to cook something simple in such an interesting way that it makes people wonder, 'why does that taste so  good?'"
–Shaun McCabe,
Executive Chef