That first job—it's a rite of passage and something most of us will remember (for better or worse) for the rest of our lives. Unfortunately, finding that first job can be a challenge when you're shy on experience and competing for opportunities. The good news? There is plenty you can do to prepare. Not only will that prep make your job search less stressful, it just might turn this rite of passage into a right path. Here are some tips to get you started.
Know the Rules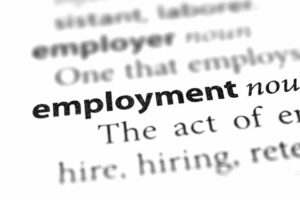 In Alberta, there are special rules and restrictions that companies must follow when employing teenagers under 18. If you're seeking your first job, it's a good idea for you and your parents to be familiar with these standards. You should also be aware that new employment laws come into effect on May 1, 2018. These will classify young workers according to age, placing some restrictions on where and what hours they can work.
All young people are guaranteed the same basic rights as adults, such as minimum wage, holidays and termination notice and pay. For more information, check the Government of Alberta website or contact Employment Standards in the Edmonton area at 780-427-3731.
Find a Good Fit
Before starting a job search, think about what will work best for you. For example, if you're enrolled in school, you'll probably want a job that doesn't interfere too much with your studies. You'll also need to think about transportation. Will you drive, get a ride, take the bus or walk? Whatever the case, employers will expect you to be on time and ready to work. You'll also want to consider your interests and skills. If you like being around people, a retail job might be a good fit. Like working outdoors? Consider applying to golf courses, landscaping companies and road crews.
Know Where to Look
There are various ways of finding jobs. Help Wanted signs, bulletin boards and friends and family are all common sources of job leads. These days, though, many people take their job searches online. Popular sites include Indeed, Monster, Workopolis, Kijiji and the Government of Canada Job Bank. Many large companies will also recruit workers through their own websites. Whatever your process, use good judgement—job postings that seem too good to be true often are.
Craft a Great Resume
Resume writing is a skill you will need throughout your life, so it's a good idea to start practising now. A good resume should demonstrate your skills and interests—both of which should speak back to the job you're trying to land. So tailor your resume to each place you apply, as different employers will be looking for different things. A cashier position might demand great people skills, while a job washing dishes in a restaurant may require you to work unsupervised for long periods. Read the job posting carefully to understand what the employer wants, and then highlight that in your resume.
Make the Best Impression
Be sure to carefully follow directions when applying for a job. These will usually be stated in the job listing. For example, some places, especially large companies, will ask that you apply online. It makes it easier for them to go through the many applications they receive. Other places will ask that you drop off your resume in person. If a preference isn't stated (or the directions aren't clear), it's probably best to do it in person. In that case, make sure you dress professionally, as the person you give your resume to may very well be your future boss. Whatever you do, show that you're responsible and can be counted on to follow instructions.
Get Proactive
As in other things, hard work pays off when you're looking for a job. Apply often (it improves your chance of getting interviews), and apply early, especially if you're looking for a summer job—many of which get snatched up before summer even begins. Also, don't get discouraged and stop applying if you don't get a response. It happens to everyone. If you're thinking of doing a follow-up call, practice what you'll say beforehand so that you sound polite and friendly and respectful of their time (make it fast!).
Mind Your Social Manners
Between Facebook, Twitter, Instagram and Snapchat, many young adults have a significant presence online. And that's something you should think about before you start applying for jobs. Employers can, and do, check out applicants on social media when deciding who to interview, so think about the online impression you make. You might consider changing your settings to private or even crafting your profiles to create a favourable, professional image of yourself. Whatever you do, don't let social media undermine your job search.
Nail the Interview
Sooner or later, your hard work will pay off and you'll land an interview. Though the thought of an interview might stress you out, be encouraged that you've made enough of a good impression that the employer wants to know you better. You can also build confidence by preparing some things to say. Typical interview questions are easy to find online, so think about how you want to answer these questions and practice them with a friend or parent. It'll make you feel and look confident during your interview, and greatly increase your chances of getting that first job. Good luck! t8n