Do you know what grade of beef you are buying? Do you know how many grades of beef are available to you as a consumer?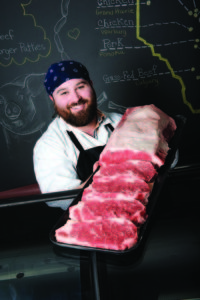 You are probably familiar with the standard grocery store and restaurant grades that you see during your weekly grocery run. Canada AA and Canada AAA are abundantly available. AA beef makes up about 35% and AAA beef accounts for a whopping 60% or more. So that means approximately 95% of the quality graded beef in Canada is pretty good! No wonder the world loves Canadian Beef!
But there are two other grades of beef you may see from time to time: Canada A and Canada PRIME. Single 'A' beef is of lower quality, and PRIME is the highest grade we can find on the Canadian Beef Grading Scale. PRIME beef accounted for 3% or less of all beef in Canada in 2016.
As a consumer, there is only one variable that you need to check for to be sure of the quality of beef you are buying. The secret to tender, flavourful and juicy meat is marbling. The higher the marbling score in the meat, the higher the grade awarded to the beef carcass. That's right! More fat yields a more delectable dining experience and commands a higher price on the world beef market.
Popular buzz words in the meat industry like Organic, Grass Fed, Free Range, Wagyu and Dry Aged do help to emphasize other qualities and characteristics in the beef you are eating. But the Canadian Beef Grading System can be applied to these specialty meats as well. While there are some exceptions to the rule, organic grass-fed beef will often score 'A' or 'AA' due to the lack of fat. Wagyu beef can never officially score higher than PRIME on the Canadian scale, and we often adopt the Japanese or Australian Wagyu grading systems unofficially to help determine the quality of these rare Wagyu or Wagyu-cross cuts that we do come across from time to time.
Talk to your butcher or local meat-counter attendant and ask about the quality of beef you are after—they should be able to acquire it for you. You will find that PRIME beef is far superior in quality to that of either AA or AAA, and often the increase in price is not as great as you would expect for the best 3% of beef in all of Canada.
EDMONTON & ST. ALBERT'S PREMIUM BUTCHER SHOP
40 Chisholm Avenue, St. Albert    780 418 1200    http://www.darcysmeats.ca/
This sponsored content was produced in partnership between Darcy's Meat Market and T8N Magazine