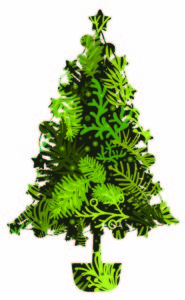 It wouldn't be the holidays without a twinkling tree in the living room lighting up December's very long evenings. But for many, brightening up the Christmas season involves a lot more decision-making than 'who gets to put the star on top of the tree.'
Environmental consciousness, convenience, and cost all play a role in choosing between a real and artificial Christmas tree. For supporters of the real thing, Christmas trees are flocked in family tradition—like piling into the vehicle to pick out the fullest tree on the lot, and the familiar scent of freshly felled pine. Artificial trees, on the other hand, are loved for their convenience, long lifespan, and the promise of a hassle-free season.
So which tree stands tallest in the great Christmas tree debate?
The Eco Angle
If sustainability is on your grownup Christmas list, the nicest option might come as a surprise. While some flinch at the thought of cutting down a live tree every year, Christmas tree production in Canada has accounted for the planting of over 80 million trees in the past twenty years.
"It's very important to understand that trees are planted on tree farms. It's agricultural land, purposely [allotted] for growing Christmas trees," says Larry Downey, a second-generation Christmas tree grower, and President of the Canadian Christmas Tree Growers Association. "It's just like sowing corn, or pumpkins, or strawberries that you plant in the spring and harvest in the fall." Except that unlike corn, or pumpkins, or strawberries, a Christmas tree planted in the spring will take 12 years before it's ready to be harvested.
In those 12 years, the growing trees provide shelter for wildlife and freshen the air—with each acre of Christmas trees producing enough oxygen for 18 people per day. With approximately 70,000 acres of Christmas tree farms in BC, Quebec, Ontario, Nova Scotia, and New Brunswick, that's a lot of clean air. Even the use of pesticides and herbicides on Christmas tree farms is rare. "If there are insects, it's only in the spring," Downey remarks, "and 48-hour treatments are quickly destroyed by UV rays or washed away by the rain. By the time we cut the trees in the fall, there's no more residue left."
Artificial trees, on the other hand, are often made from non-recyclable polyvinyl chloride (PVC) and shipped from factories in China—meaning one naughty carbon footprint. And while the material is relatively durable, the technology is usually less so, causing people to replace their artificial trees prematurely. "As far as shape and quality of the tree goes, you never hear of branches falling off," says Jessie Van Dam, Seasonal Manager at Canadian Tire. "It's always the lights that go first." This is particularly an issue for trees pre-lit with LED lights, as replacement bulbs aren't always available. Instead, Van Dam often suggests that customers go for trees pre-lit with incandescent bulbs—which can be more easily replaced—as the options for unlit trees are about as dim as the trees themselves. "I think last year we carried two," notes Van Dam.
Cheers for Convenience
What artificial trees lack in sustainability, however, they make up for in style and convenience. "You can get trees in any colour," Van Dam explains. "You can get a black tree, a red tree, a purple tree"—and with sizes ranging from 4 to 12 feet tall, there's a fit for every home.  Shoppers low on floor space can browse slim or half-trees, which give the illusion of a full tree but sit against the wall to save space, while those who consider holiday decorating to be a second calling can dazzle with a snow-white pine or champagne-coloured faux fir.
For Christmas decor that leans in favour of traditional, there are plenty of products available to make a fake tree seem like the real thing. Self-shaping technology in many high-quality trees preserves tension in the branches so they bounce back more easily after 11 months in storage. Even that real tree smell can be imitated with 'Scentsicles' or other air fresheners that make artificial trees smell authentic.
So why fake it? "An artificial tree, you just set it up and let it go," says Van Dam. Real trees require daily watering—up to four litres per day—and yearly disposal, which can be a hassle for people living in apartments or those who leave
their decorations up past curbside pickup days.
Disposal Pros and Woes
A Christmas tree's final destination is another factor to consider. Homes receiving waste collection services from the City can leave their real trees on the curb in January for St. Albert's Curbside Christmas Tree Pick-Up. Last year, over 1,500 trees were collected through the program, which chips and composts them with material from the Green Organics Cart. The composted goods are then offered back to residents through The Compost Giveaway, free of charge. Disposing of real trees does come with its own set of carbon footprints—such as gas for the trucks that pick them up and wood chippers that turn them to mulch. But after a lifetime of cleaning the air, and a final rest in garden beds across the city, their tread is comparatively light.
Alternatively, most artificial trees are non-recyclable and non-biodegradable. So whether one lasts five years or 20, it's ultimately going to end up in the landfill. There are a lot of options for residents disposing of the fake varieties, including Curbside Large Item Pickup and the Brown Garbage Cart, making it difficult for the City to keep track of how many are sent to the dump each year. But Van Dam says artificial tree sales at Canadian Tire over the past five years have been steady, suggesting old ones are likely getting kicked to the curb.
Prickly Price Points
For many holiday shoppers, choosing between real and artificial Christmas trees comes down to cost. Artificial trees are more expensive up front, but when cared for properly, can outlive their real counterparts by 10 to 20 years. Plus, notes Van Dam, with functions such as foot pedals to save the bi-nightly crawl under the tree, and a seemingly endless variety of styles and colours, artificial trees are worth the money. Those taking the plunge can expect to spend between $200 and $400 on a standard tree—more for specialty models. "It's an investment. You're going to use it every year, so don't be afraid to get what you want."
By contrast, averaging between $35 and $60 a tree, real trees fit a little easier into the annual holiday budget. They do, however, come with additional costs, such as lights and a stand—both of which are commonly included when buying an artificial tree. If you don't expect to keep a fake tree around for more than 5 to 10 years—that's about how long it takes for an artificial tree to start saving you money—consider purchasing real.
Although Van Dam's Canadian Tire brings in 350–400 real trees each year and sells them all, artificial trees are their more popular holiday choice. With 40 different styles to choose from—and nearly every one on display in store—she estimates they sell 800 artificial trees a year. "With an artificial Christmas tree you get a better idea of what you're buying," she says, and unlike the real thing, chances of a sparse patch or broken branch are slim.
Downey notes that sales for real trees aren't slowing down either. "Definitely, we see a stronger demand in natural trees compared to 10 years ago," he says. "People are more conscious of the environment, and there's a trend of going back to locally grown fruit, vegetables, and Christmas trees."
Whether it's cost, convenience, or eco-consciousness driving buyers' choices, Van Dam notes that by the time they get to the store, most have made up their minds. "You don't get a lot of people who come in deciding between artificial and real," she says, "they generally already know what they want." But whichever type ends up gleaming in your living room, the faithful demand for any kind of tree promises a Christmas season that's sure to be merry and bright. t8n
Evergreen Alternatives
For the non-traditional, real or artificial aren't the only options when choosing a Christmas tree. Many greenhouses and retailers market potted trees as a sustainable option for those who don't want to see their trees go to waste. Potted (or living) trees are sold with their root ball intact. After enjoying a merry Christmas indoors, potted trees can be planted outside, where they clean the air and keep the holiday season alive all year long.
Living trees do require a bit of preparation—like digging a hole big enough for the tree before the ground freezes—and they aren't suitable for tree-lovers wanting to get an early start on decorating.
"If you bring the [potted] tree inside for more than 10 days, the tree starts to activate itself because it thinks it's spring," Downey says, after which time it will be unlikely to survive a winter outdoors. Instead, he suggests replanting live trees after 7 days indoors, or if it's a smaller tree, "keep it in the house all winter, and bring it outside in May."
Other options, like decorating a wooden ladder, large house plant, or a bundle of decorative twigs, will help you keep the Christmas spirit alive—without having to pick a side.