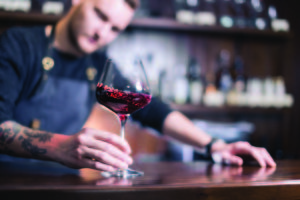 Ask any bon vivant, and they'll tell you there's much more to enjoying a drink than merely lifting it to your lips. For many, the appreciation and enjoyment of alcohol is a bona fide passion and even a profession. So if you find yourself wishing you knew more about wine and spirits, not only are you not alone—you've got plenty of options for making it happen. Here are a few for boosting your booze I.Q.
Go to Tastings
Tasting events have exploded in popularity lately, and for good reason. They're a fun and easy way to dive into the wide world of wine and spirits—which is good since most of us have a lot to learn about the subject. With hundreds of wine varieties out there (one recent reference book lists 1,368 in commercial circulation), it can be hard to know where to start—especially if your wine knowledge begins and ends at red and white. Thankfully, many restaurants and stores hold regular tastings.
Usually based on a particular theme and hosted by an expert, tastings are a good way for you to learn everything from wine basics to advanced pairings. Besides being educational and fun, tasting events are also more practical (and cheaper) than trying to sample wines at home in that you don't have to buy a whole bottle of something to find out you don't care for it. And, of course, tastings aren't limited to wine—beer and whiskey events are also very common.
Prices for these events can vary from free samplings at your neighbourhood liquor store to ritzy affairs with dinner and live music that cost upwards of $100 a ticket. To find tastings in your area, ask your favourite liquor merchant or check your local event listings.
Order a Subscription Box
Subscription boxes seem to exist for everything these days, so it's no surprise there's a wide range of subscription services for alcohol. The basic idea behind them is simple: you pay a regular subscription fee, and every month you receive a personalized delivery of something special you wouldn't normally have come across. There are subscription services for every type of drinking personality, too. Some are aimed at wine connoisseurs, others at artisan beer aficionados, still others at wannabe mixologists. It's sort of like having your own personal alcohol director curating drinks for you. If you're the indecisive type that stares forever at a drink menu before settling for a cosmo, a subscription box might be right for you. To find the perfect one, check online. Websites like cdnboxaddict.blogspot.ca give a good rundown of alcohol (and other) subscription services that deliver to Canada. Prices depend on the type of alcohol and the specific plan you choose but expect to spend in the range of $50 to $150.
Take a Sommelier Course
Traditionally, a sommelier is a sort of waiter specializing in wine. At least, that's the brief OED definition (sommelier comes from the French word for butler). Sommeliers often work in restaurants as authorities on wine, knowing everything from how to serve it properly to how to pair it with various menu items. However, anyone can pursue sommelier certification and do so for practical purposes—expert know-how can be useful for other wine professionals, such as importers, shop owners, food writers and so on. Sommelier courses are also popular among hobbyists with a passion for wine and a desire to learn more. In Canada, several bodies and organizations offer certification. The Canadian Association of Professional Sommeliers (CAPS) and the Wine & Spirit Education Trust (WSET) are two examples. Here in the Edmonton area, NAIT offers several wine courses conducted by the wine educator Fine Vintage. These courses range in price and duration—the Level 1 Award in Wines, for example, can be done in one day for $399, or over four weeks for $499. Online instruction is also available. Besides instruction and wine, these courses include the WSET exam for certification. t8n
Robust Reds for Rotary
Now in its 11th year, this Rotary Club wine-tasting fundraiser takes place September 22 at the airport Renaissance. It features over 150 wines, along with food and a silent auction, with all proceeds going to charity. Tickets are $75. Visit robustreds.ca for more info.