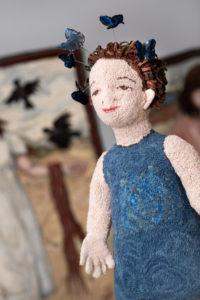 Rug hooking has its roots in ancient England, but the modern form developed along the eastern shores of North America almost 200 years ago. It was a craft for those who couldn't afford floor coverings and had to make do with what they had. The rugs were fashioned from clothing that was too distressed to be worn. Today, a craft that was once the purview of the poor has become a sought-after art form. The traditional designs use cultural motifs to tell stories, and in St. Albert, one rug-hooker is taking that craft to a new level. Meet Rachelle LeBlanc—artist, visual storyteller and explorer of sense and belonging. Take a look.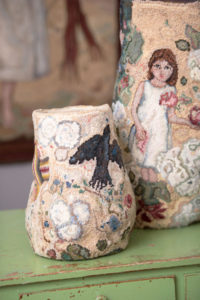 Rachelle LeBlanc grew up in Bouctouche, NB, in her father's fish store and her mother's fabric store where "creativity was an escape." When she was 15 and lost her father, stories and storytelling became acutely important to her.
"Losing your father very young changes you," says Rachelle. "When they die and disappear, stories are all that you have."
After attending college in Ontario, Rachelle married and moved to Montreal, where she began rug hooking during a stressful time at work. It was then she began integrating her family stories into her pieces. Family and traditions matter to Rachelle, and her craftsmanship and pride of art are evident in her creative process.
"How I finish my work looks back on tradition," she says. "The binding is covered in reproduction Métis sashes that I source from an Indigenous gentleman. That's how I connect myself to Canada."
After relocating again, this time to Alberta, Rachelle's work began to tell the story of what happens when people are uprooted and adjusting to a new life. Inspired by her reflections, Rachelle began to create work that explored identity and how "when we are displaced, we carry our traditions, memories and stories with us to create and define a new sense of belonging."
In her latest exhibit, Transformations—Hooked Sculpture, Rachelle reinvents traditional rug hooking once again, this time experimenting with sculptural pieces. Using her background in the garment industry, she creates the patterns and sews a mock-up of each sculpture. She then hand cuts strips of wool in a variety of widths to "create movement in the finished piece," then pulls thousands of loops through the linen with a latchhook. Dowels and polyfill give her sculptures structure. Once the pieces are finished, she mounts some of them on pottery plinths that she makes herself.
"Rug hooking slows the whole world down … everything gets quiet" say Rachelle. That slowing of the world gives Rachelle time to reflect on life and plan new projects. And, as she continues to push the boundaries of this traditionally two-dimensional art form, she's already planning her next show, which will include stories of her life, her family and the home where they have put down strong roots.  t8n