In the age of the Internet and social media, it can be easy to forget how essential traditional media was to the development of the Canadian west. Newspapers and radio stations in the early days of Alberta weren't just reporting news, they were helping to build communities by creating platforms for conversation. The cultural development of St. Albert has benefited tremendously from the various media outlets that have been operating for the last 110 years.
1900s-1910s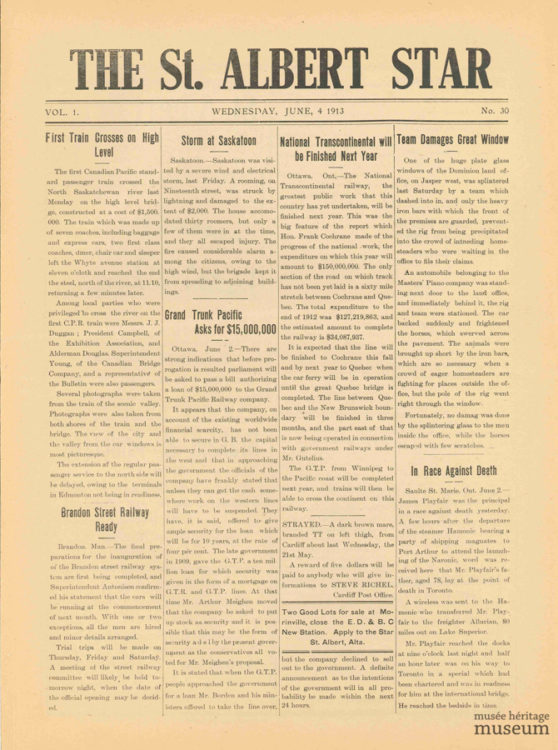 St. Albert's first locally-published piece of media was a francophone newspaper called Le Progrès, which first ran in 1909. It was founded by an MLA hopeful named Wilfrid Gariépy. He started printing the newspaper to promote his legislative bid, but was defeated by Lucien Boudreau in the election. While Gariépy didn't stick around in St. Albert, his newspaper did, as he sold it to Omer Saint-Germain, who continued to publish news that would be of interest to Franco-Albertans around the province.
A more locally-focused paper arose in 1912, which reported news specifically to a St. Albert audience. This bilingual paper was called the St. Albert Star, or Étoile de St. Albert. While the paper ran in both French and English, the two versions were not literal translations of each other. Each version of the paper carried unique stories that were catered to their respective linguistic communities.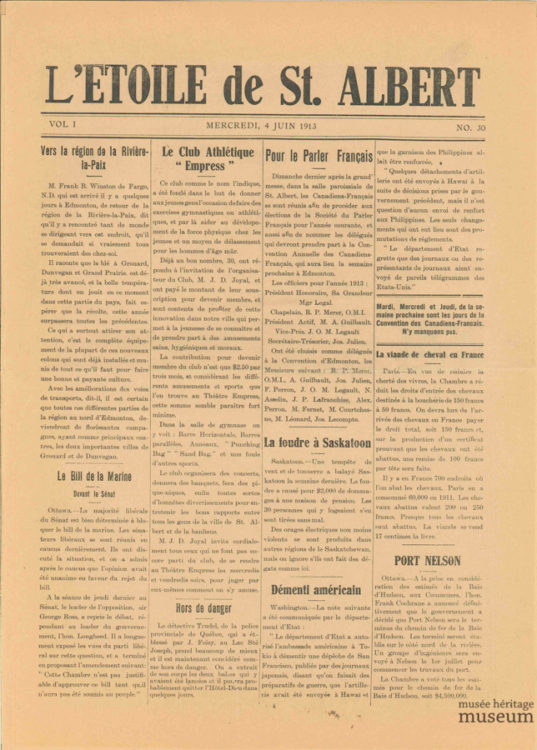 Sadly, these early attempts at news reporting couldn't be sustained. In 1914, Saint-Germain sold Le Progrès, and the Star/Étoile stopped its presses. Le Progrès survived the sale, rebranding as Le Progrès Albertain and moving its offices to Edmonton.
1940s-1950s
St. Albert was without a local paper until 1949, when a paper called the St. Albert Gazette began publication. This version of the Gazette was not the same entity that exists today. It was printed out of Edmonton and reported news stories from around Sturgeon County. The paper lasted until 1953, when it was merged with the Morinville Journal.
1960s
In 1961, in conjunction with St. Albert's 100th anniversary, a new newspaper began publication, also calling itself the St. Albert Gazette. While sharing a name with St. Albert's previous local newspaper, it was owned by a different company. This version of the St. Albert Gazette was actually run and printed in St. Albert, in a small office on Perron Street.
In 1966, the paper was sold to Ernie and Shirley Jamison, and rebranded as simply The Gazette. While the newspaper would undergo many more name changes over the decades, this version of the newspaper is the one that survives today.
1970s
In 1970, The Gazette changed its name once again, becoming the St. Albert and Sturgeon Gazette to indicate its county-wide scope. However, this name only lasted four years, after which it became The Gazette once again.
In 1978, St. Albert got its own radio station. Broadcasting on frequency 1070 AM, CKST Radio hit the airwaves in November, playing oldies for all of the city to enjoy.
1980s
In 1988, after 10 years on the air, CKST Radio changed frequencies to 1200 AM, and changed its name to CFMG. The Gazette would go through one more rebranding in 1989, finally settling on The St. Albert Gazette, which remains as its name to this day.
1990s
In 1995, CFMG made the jump to an FM frequency, and rebranded itself as EZ Rock. The station transitioned away from the oldies and began to play adult contemporary music. As the name of the station suggested, this music was easy-going and inoffensive, and was designed to be appropriate for play in waiting rooms and office spaces. EZ Rock would later leave St. Albert entirely, moving its offices to Edmonton and becoming Virgin Radio.
2010-Today
In 2011, a new newspaper, the St. Albert Leader, began printing. This weekly paper briefly offered a competing voice to the long-running Gazette, but shut down in 2015.
In 2014, T8N Magazine joined St. Albert's media family, providing monthly issues of long form conversations about the city and the topics that interest it.
Did You Know?
The University of Alberta maintains a vast archive of digitized newspapers. The archive, called Peel's Prairie Provinces, contains old issues of the Gazette and the Star/Étoile that members of the public can access for free.
Fun Fact
In 1912, Le Progrès printed about 2,000 copies per issue, which were to be distributed throughout the province. These days, The Gazette prints more than 26,800 copies per issue, for St. Albert and Sturgeon County alone.