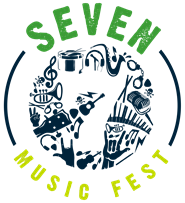 Ask producer Barry Bailey why he wanted to have the Seven Music Festival in St. Albert, and he'll tell you, "I'm based in St. Albert, and I'm always looking for things to do in and for the city." With years of experience in the entertainment industry (Bailey worked in TV and for the St. Albert Leader), he knew he had the contacts and know-how to make it happen.
Then in 2014 St. Albert announced it was starting the Significant Event Stimulus Fund which would give a grant to an event whose intention was to bring visitors to the city. Bailey pitched his idea and was rewarded with a grant. He said, "That grant came in handy when I was putting together the music lineup as most bands like to be paid up front, and it's a long time between putting the show together to seeing profits come in. Once I got the grant money, I realized the festival was really happening."
Last year's festival showcased the Sam Roberts Band as the headliner, and Bailey mentioned that to get a well-known music artist like that for the very first festival is almost impossible. But, for Bailey, it happened. With the help of trixstar, who managed events for the River Cree Casino, the Edmonton Oilers and now the Seven Music Fest, they managed to have the Sam Roberts Band come to St. Albert and entertain us. Bailey didn't want to categorize this festival. He explains, "I used the words 'music festival' on purpose; not blues festival or rock festival. It's because I wanted all kinds of music. I wanted a festival where I can bring my adult children and expose them to bands they normally wouldn't listen to and vice versa."
This year's VIP tickets have already sold out, which is not surprising considering it got you this: access to a covered tent with seating for 350, a bar, servers and direct access to food trucks. Bailey also had food vendors call him this year to see if they could get into the festival because it was so successful last year.
It's a family event, and last year's festival saw people from grandparents to young families, and young adults to teens attend. The festival team also makes sure those people who live around Seven Hills won't be inconvenienced: they're enforcing no parking in the Seven Hills area, and their noise permit gives them until 11pm that night to entertain attendees. Bailey wants this festival to have a long run, so he and his team are doing everything they can to make sure everyone enjoys themselves whether they're attending the festival or not.Tune in next week to see our feature photo album of the big night.
The Music
Here are the bands that'll be playing their hearts out this Saturday:
Walk Off The Earth
The Elwins
The Bros. Landreth
Dear Rouge
Leeroy Stagger
Eyes On Ivan
The Carolines
A Few Things to Remember
Bring rain gear to be on the safe side as the festival will still go on if it rains.
Don't bring large umbrellas as they won't be allowed in. Umbrellas for rain will only be permitted.
Bring festival-style folded chairs that are close to the ground. Patio chairs or chaise-lounge style foldable chairs won't be permitted.
Don't bring alcohol, as there is a beer garden to attend to your needs.
For more info on what to do to enjoy the festival
click here.