Packing school lunches for your kids can be a chore, and it's easy to fall into the same patterns—another day, another ham-and-cheese sandwich, another eye-roll at having to eat the same things again.
But lunch doesn't have to go down like this. Here are a few fun and creative ideas that can be prepared in advance, leaving you more time to make sure they brush their teeth, change into pants that actually fit, get their shoes on, find their library books…
Bake-and-Freeze Spinach Pesto Rolls
Cinnamon Seed Butter 'Sushi' Rolls
Nut-Free Trail Mix Ideas
Trail mix is an excellent snack for little lunch boxes, and it's a fun DIY project that kids can mix up themselves and keep in their own jar.
You don't need nuts to make your trail mix a nutritious energy boost packed with protein. Think dry roasted chickpeas, soybeans, and savoury nori (seaweed). There's dried goji berries, cranberries, papaya, mango, pineapple, cherries, blueberries, raisins. Also, pumpkin seeds, sunflower seeds, banana chips, coconut chips, fun crackers, and all kinds of cereal.
And remember, the best trail mix always has a nugget of joy to discover, so let them toss in a few chocolate chips or mini marshmallows once in a while.
–
Pretzel Twist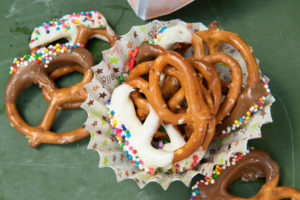 Pretzels are a classic snack, but they can get, well, boring after a few. Take them from 'nay' to 'hooray' by dipping them in melted white, milk, or dark chocolate—but wait, it gets better. Dip your chocolate-covered pretzels in sprinkles, chopped pistachios (if not going to school), crushed cereal, or coconut, and place them on a tray to cool. Final step—enjoy, knowing that you'll never again be disappointed by a pretzel.