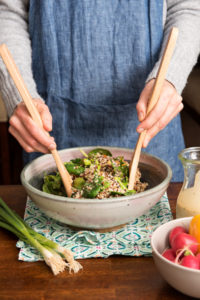 Sweet potato is a delicious, hearty and healthy vegetable that can be incorporated into a plant based meal in many different ways. The warmth from the sweet potato and quinoa paired with the creamy cashew dressing and the freshness of the greens is a great cosy night meal. This recipe also works well at room temperature, perfect for next day's lunch!
1 sweet potato, peeled and cubed
1 tbsp. olive oil
1 tsp. kosher salt
½ tsp. ground black pepper
2 c. chopped arugula
1 c. cooked quinoa
Preheat oven to 375ºF. Line a sheet pan with parchment paper and toss the sweet potato cubes with the olive oil, salt and pepper. Cook for 20-25 minutes until the cubes are tender and browning. Turn off the oven and keep them warm by covering with tinfoil.
On a serving plate, arrange the arugula, scoop on the cooked quinoa and sprinkle with the sweet potato cubes, top with the cashew drizzle. This would also work as a Buddha bowl style meal.
Cashew Drizzle
¼ c. cashew
butter
½ c. full fat
coconut milk
zest of 1 lime
½ tbsp. brown sugar
1 tbsp. soy sauce
2 tbsp. fresh
cilantro
2 green onions,
roughly chopped
1-3 tbsp. warm water
Combine the above ingredients into a blender to make this delicious, creamy dressing. The variation in water added is purely a personal consistency choice, thin versus thick dressing.