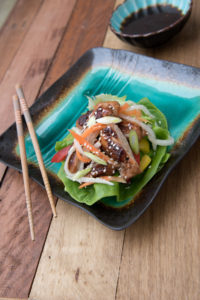 Lettuce wraps have a way of disappearing even when no one is hungry. Consider a double batch.
2 tbsp vegetable oil
6 boneless, skinless chicken thighs
Salt and pepper, to season
1 cup pickled carrot and daikon salad (from the deli)
1 handful cilantro, roughly chopped
1 handful bean sprouts
1/2 English cucumber, sliced
1 head butter lettuce, separated into "cups"
2 scallions, thinly sliced
2 tbsp toasted sesame seeds
For the sauce
1/4 cup hoisin sauce
1/4 cup sweet chili sauce
1/4 cup orange juice
1 tbsp low-sodium soy sauce
1 tbsp rice-wine vinegar
2 tsp fish sauce
1 tsp freshly grated ginger
1 clove garlic, minced
Place all the ingredients for the sauce in a bowl, and whisk to combine. Next, heat the vegetable oil in a large pan over medium-high heat, and add the chicken thighs. Season with salt and pepper, and brown the thighs on both sides. Reduce the heat to medium-low, and pour half the sauce into the pan. Cook the thighs for 15 more minutes, stirring often and turning the meat 2 or 3 times. When the meat is cooked and the glaze is golden and sticky, slice the meat, sprinkle it with toasted sesame seeds and place it on a serving dish alongside the prepared vegetables and lettuce cups. Fill the cups with the toppings of your choosing, and dip in the reserved sauce. Enjoy!