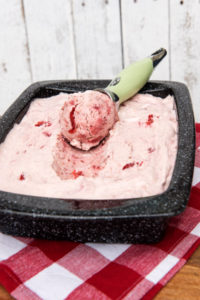 If you've never roasted strawberries, it's about to become your thing. The perfect addition to this easy-to-make gelato.
3 cups fresh strawberries, hulled and halved
1 1/2 cups chopped rhubarb
2 tbsp balsamic vinegar
1 tbsp sugar
Zest of 1 lemon
2 cups cream
300 mL can of sweetened condensed milk
Preheat your oven to 420˚F, and line a large baking pan with an oversized sheet of parchment paper.
Place the strawberries and rhubarb in a mixing bowl, and toss them with the balsamic vinegar and sugar. Macerate the fruit for 15 minutes, then pour the fruit with its juices onto the prepared baking pan, and place in the preheated oven to roast for 20 minutes. Check the fruit after 15 minutes to ensure that the fruit and juices aren't burning (just reducing and bubbling). Transfer the roasted fruit and juices to a bowl, and coarsely mash them. Stir in the lemon zest and set aside to cool completely.
When the fruit has cooled, add the cream and sweetened condensed milk to a large mixing bowl, and whip with an electric mixer until soft peaks form (don't overbeat). Fold in the fruit purée, and pour the mixture into a freezer-safe dish. Cover with plastic wrap, and freeze until solid (about 6 hours).